Posted on
Patricia "Pat" (McConville) Johnson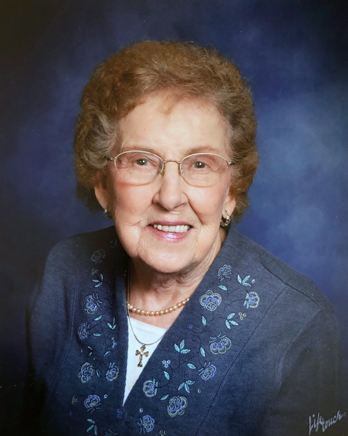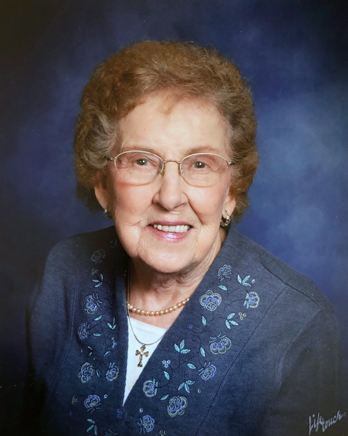 Patricia "Pat" (McConville) Johnson passed away peacefully the evening of Sunday, Nov. 29, 2020, at Sacred Heart Hospital in Eau Claire.
Pat was born in Cadott, Oct. 21, 1922, to James and Helena McConville.
She graduated in 1942, from Eau Claire Senior High School.
Shortly after, she began work at U.S. Rubber Company, which would eventually become Uniroyal, where she met her soul mate, Russell "Russ" Johnson. They were married July 27, 1946, and would share 66 wonderful years together.
They made their home in Shawtown, in Eau Claire, where they were blessed with four children – Linda, Sandra, Richard and Craig.
In addition to her work at Uniroyal, Pat also worked at Mt. Washington Home and Dove West as a cook.
Pat and Russ were devout members of St. James the Greater Catholic Church, where Pat was also active in the Parish Council of Catholic Women.
They enjoyed dancing, traveling and spending time with family. Pat was an excellent cook, often welcoming 30 or more of her extended family into her home for holiday gatherings, where one could be assured pleasant company and an amazing meal, followed by one, maybe two, slices of pie and ice cream. She also baked the best cookies, and took great joy in sharing them with friends and family whenever they would visit.
Russ taught her how to play golf later in life, an activity she enjoyed well into her 90's. She was quite competitive, a fact she was proud of, as it allowed her to play with (and often beat) the "younger ladies" in her league.
Russ and Pat took many wintertime trips to Gulf Shores, Ala., with their close friends, the Procks and the Micklesons.
Pat was a loving wife, mother, grandmother and greatgrandmother. Whether it be from luck or tenacity, Pat was fortunate enough to meet five great-grandchildren whom she loved deeply and enjoyed spending time with.
She was an immensely strong and caring person. It was this strength, along with her faith, that carried her through many of life's challenges. Through it all, she kept love in her heart and remained optimistic for what the future would hold, often saying, "We'll take it one day at a time."
Pat was loved by many and will be sorely missed.
She is survived by her grandchildren – Emily (Cory) Dahl and Colin (Kristina) Johnson; five great-grandchildren – Cohen, Callum, Keller, Paige and Arlo; and many nieces and nephews.
She was preceded in death by her husband – Russell Johnson; children – Sandra, Craig, Richard (Lori) and Linda (Larry); her parents – James and Helena; and siblings – Mary, Connie, Margaret, Molly, Dorothy, Tom, Frank, Pat and Gordon.
A private Mass of Christian burial will be held at St. James the Greater Catholic Church. A burial ceremony and celebration of life will be scheduled for a later date, when her loved ones may gather more safely to remember her.
Lenmark Gomsrud Linn Funeral and Cremation Services is assisting the family.
Online condolences may be expressed at lenmarkfh.com.