Posted on
Sheila J. Bonn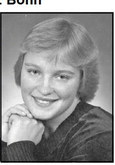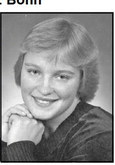 Sheila J. Bonn, 56, Holcombe, passed away Wednesday, Feb. 19, 2020, after a long, hard-fought, 27-year battle with cancer.
Sheila was born to James and Caroline (Mataczynski) Lybert, Nov. 18, 1963, in Ladysmith.
She graduated from Flambeau High School in 1982, where she was very active in FFA and the music program, where she received several awards.
Sheila married the love of her life, Timothy Scott Bonn, April 24, 1982. The couple resided on the family farm in the Town of Ruby, where they welcomed their son, Timothy James, in September of 1982.
She loved spending time with animals and helping on the farm, by milking and doing chores. She was also employed at Weather Shield for 20 years, and retired upon becoming ill.
Sheila was known for her love of animals, hard work ethic, determination and her beautiful smile.
She is survived by her husband of 38 years – Timothy Scott Bonn; her son – Timothy James Bonn; brothers – Jeff (Gwen) Lybert, Tony, Scott (Wendy) Lybert, Tony, Terry (Jill) Lybert, Medford, Tim (Roberta) Lybert, Fremont, and Troy (Deanna) Lybert, Conrath; sisters – Cheryl (Ed) Andres, Navarra, Fla., and Brenda (Jeff) McMahon, Tony; and many nieces and nephews.
She was preceded in death by her parents – James and Caroline Lybert; and her two favorite cats – Puff and Breanna.
Services will be held at 2 p.m., Saturday, Feb. 29, at the First Presbyterian Church in Cornell, with Pastor Beverly Thompson officiating. Interment will be in the Cornell Cemetery, following the service.
Visitation will be from 12:30 p.m., until the time of service, Saturday, at the church.
Borton-Leiser Funeral Home in Cornell, is assisting the family.
Online condolences may be expressed at bortonleiserfuneralhome. com. 85714