Posted on
Kurt Castle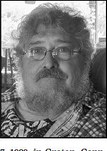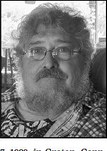 Kurt E. Castle, 62, Greenwood, passed away unexpectedly at Marshfield Medical Center on Monday, Nov. 9, 2020. A celebration of life will be held at Parkway Pines on Highway 73 in Greenwood, on Monday, Nov. 23, from 4-7 p.m.
Kurt Edward Castle was born on April 24, 1958, in Bemidji, Minn., the son of Raymond H. and Dorothy J. (nee Gillie) Castle. Kurt was raised in northern Minnesota where he helped his family build Castle Highlands Golf Course, an 18-hole championship course, from the ground up. Kurt played a pivotal role in both the construction and operation for many years. After graduating from Bemidji High School in 1976, Kurt continued to work at Castle Highlands until he enlisted in the U.S. Navy on March 28, 1977. He was united in marriage to Linda L. Siggens on Dec. 27, 1980, in Groton, Conn. In March 1982, Kurt re-enlisted into the U.S. Navy and moved to Bangor-Poulsbo, Wash., until March 1988. Kurt moved back to Bemidji while he continued to serve in the U.S. Naval Reserves and worked for several electrical companies. In 1991, he moved to Lake Nebagamon, where he started his life-long career as an electrical technician, at Enbridge Energy (Lakehead Pipeline Co.) station in Superior. Kurt then transferred to Greenwood, where he continued to work for Enbridge Energy at the station in Owen, where he retired in January 2018. Kurt retired from the Naval Reserves as a Chief Petty Officer. Kurt had many interests, but especially enjoyed golfing, hunting, fishing, rebuilding custom St. Croix fishing rods, trapping, archery, and loved spending time with his family and friends. He was known to be an exciting storyteller. Kurt was a member of the Greenwood American Legion Post #238, the Greenwood Lions Club, the Black River Bowman's Club in Greenwood and Withee, and Meadowview Golf Course in Owen.
He will be dearly missed by his wife, Linda, of Greenwood; his children: Karlie (Roger) Samuels of New Richmond, Douglas (Amber) Castle of Farmington, Minn., Matthew (Bethany) Castle of White, Ga.; his seven grandchildren; his brother: Bradley (Renee) Castle of Shevlin, Minn.; his mother: Dorothy Jean of Bemidji, Minn.; and many other relatives and friends.
He was preceded in death by his father.
Online condolences may be expressed at www.cuddiefh.com.
Cuddie Funeral Home, Greenwood, is assisting the family with arrangements.
PAID OBITUARY 97481