Posted on
Evelyn Lynn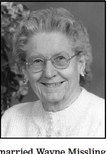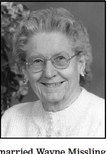 Evelyn L. Lynn, 96, died on Friday, July 31, 2020, at the Waterford Assisted Living in Colby. Funeral services were held at 11 a.m., on Wednesday, Aug. 5, at St. John's Lutheran Church, Spencer, with Rev. Gary Froseth officiating. Burial will immediately follow in St. John's Lutheran Church Cemetery.
Evelyn Greening was born on Oct. 3, 1923, in the town of Bloomfield, Waushara County, to Paul and Lydia (nee Krause) Greening. Evelyn left home at a young age and worked for room and board in Unity. She was a graduate of Unity High School. Evelyn and Rudy were married on June 26, 1943. They farmed until 1967. Evelyn worked at Gamble Stores in Colby and Spencer. After retirement, they moved to Phillips and enjoyed the life on the lake. Evelyn later married Wayne Missling on July 18, 2002. They were later divorced. Evelyn enjoyed going to the casino. She was a former member of St. John's Lutheran Church in Spencer and a member of Trinity Lutheran Church in Phillips.
Evelyn is survived by her children: Terry Lynn of Meza, Ariz., Ron Lynn of Wilson, and Marsha (Bill) Martens of Spencer; her grandchildren: Elisabeth and David Lynn, Aaron (Christy) Lynn, Becky (Justin) Born, Jenny (Rich) Nieman, Jodi (Dan) Pilsner and Jason Martens; her great-grandchildren: Sullivan and Connelly Born, Lizzy and Katie Lynn, Rudy Nieman and fiancée Amanda Pekarek, and Leah, Lydia and Rachel Nieman; a great-great-granddaughter, Adeline Nieman; four sisters: Eleanor Coop, Anita Hein, Dorothy Konop, and Beverly (Don) Sleeter; and one brother-in-law, Keith Donovan.
She was preceded in death by her parents; her husband, Rudy; a son, Dale; four sisters: Adeline Seefeldt, Irmgard Best, Lois Donovan, and Arlene Kroening; one brother, Marvin Greening; and her former husband, Wayne Missling.
Online condolences may be made at www.hansenschillingfuneralhome.com.
PAID OBITUARY 92733