Posted on
Ellen H. Scheidler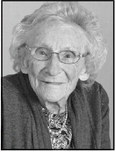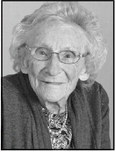 Ellen H. Scheidler, 97, Boyd, passed away peacefully, with family at her side, Friday, Jan. 3, 2020, at the Chippewa Manor Nursing Home in Chippewa Falls.
Ellen was born Oct. 8, 1922, to Joseph and Annie (Pasck) Peterlik, at St. Joseph's Hospital in Chippewa Falls.
She attended the Matott School and later worked at Sunbeam in Chicago, Ill.
Ellen Peterlik married Samuel Scheidler Oct. 8, 1947. Following marriage, they lived and farmed in the Town of Goetz, until 1986, when they retired and moved to the Town of Colburn.
She enjoyed baking, canning, her dogs, watching birds, and spending time with family and friends, where she welcomed everyone to her dinner table.
She is survived by her children – Samuel (Judy) Scheidler, Cassie (Debra) Scheidler, Joanne (Steve) Lodahl, Karen (Wayne) Gadke, Terry (Cherri) Scheidler and Larry (Kim) Scheidler; grandchildren – Michael Scheidler, Joseph Scheidler, Michael Gerrits, Leslie Grenz, Marshall Scheidler, Dallis Scheidler, Nicole Gintz, Elisha Draeger, Stefani Burzynski, Scott Lodahl, Blake Lodahl, Cory Scheidler, Rachel Wagner, Carl Scheidler, Samuel Scheidler and Josh Jacob; numerous great-grandchildren; very special friend – Kelly Wojtalewicz; sisters-in-law – Ruthie Van Den Heuvel, Jan Scheidler and Anita Marion; and many nieces and nephews.
She was preceded in death by her parents; husband – Samuel; infant son; sisters – Mae Ernst, Betty Dufek and Jennie Peterlik; and an infant brother.
A service of Christian burial was held at 11 a.m., Wednesday, Jan. 8, at St. Rose of Lima Catholic Church in Cadott, with Deacon Ned Willkom Officiating. Interment followed the service at St. Anthony's Catholic Cemetery in Drywood.
Visitation was from 4-7 p.m., with a 7 p.m. Rosary, Tuesday, Jan. 7, at Leiser Funeral Home in Cadott. Visitation was Wednesday morning, from 9:30-10:30 a.m., at the funeral home.
Online condolences may be expressed at leiserfuneralhome. com.
83667