Posted on
Norman Richard LaNou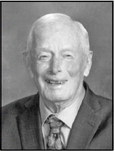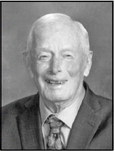 Norman Richard LaNou was born on the family farm Feb. 24, 1926, to Joseph and Gunda (Hagen) LaNou, and Norman died at his home in Eau Claire, Thursday, Dec. 5, 2019, at the age of 93. He was surrounded by his loving family and his pastor, Mary.
He grew up in the Town of Anson, and went to the Matott one-room schoolhouse, then graduated from Chi-Hi in 1944.
After graduation, Norman started a home building business and later worked with his sons, Bob and Mike, building hundreds of homes in the Chippewa Valley, mainly on the northside of Eau Claire. He was known for his honesty, his exceptional work ethic and his attention to detail.
Norman married the love of his life, Joyce Metzenbauer, in Chippewa Falls, at the Methodist Church Oct. 5, 1946. They recently celebrated their 73rd wedding anniversary.
After Norman's retirement from building in 1999, he volunteered his expertise with Habitat for Humanity, and he also helped build Rachel's Place Learning Center at Hope Lutheran Church. He also helped deliver Meals on Wheels for 20 years, even into his 90s.
His greatest joys in life were golfing, reading, playing cribbage and watching sports on TV. He also enjoyed his many travels across the United States, Asia and Europe.
He is survived by his wife – Joyce; their five children – Bob (Mary), Mike (Laurie), Cindy (Gary) Connie (Pong) and Vickie; his brother – Bob, Tomahawk; nine grandchildren; and 11 great-grandchildren.
He was preceded in death by his parents; in-laws; sisters – Mable and Grace; and brothers –Ed, Alvin and Louis.
Services will take place at noon, Monday, Dec. 16, at Hope Lutheran Church, in Eau Claire. Visitation will be held two hours prior to the service, at the church.
Burial will be in the Prairie View Cemetery in the Village of Lake Hallie. A luncheon will be served at the church prior to the interment.
The family wishes to thank the staff of St. Joseph's Hospice and Pastor Mary Erickson, for all their care and compassion during his difficult last days. A special thanks from the family to daughter and sister, Vickie, for her tireless love, support and devotion to her parents during Norman's illness.
Memorials for Norman can be directed to Hope Lutheran Church, St. Joseph Hospice or the donor's choice.
Lenmark-Gomsrud-Linn Funeral & Cremation Services is serving the family.
Online condolences may be expressed at lenmarkfh.com.
82574