Posted on
John Herbert Reeves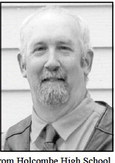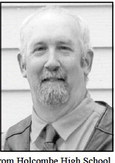 John Herbert Reeves, 55, rural Augusta, passed away Monday evening, Dec. 2, 2019, at his home, in the loving care of his family and Mayo Home Hospice, after a 19-month battle with ALS, of which he endured with grace and dignity.
John was Jan. 19, 1964, in Chicago, Ill. He lived in Elmhurst, Ill., until age 10, when his family moved to Holcombe. He graduated in 1982 from Holcombe High School, and was confirmed into the Lutheran faith as a member of St John's Lutheran Church in Cornell.
He went on to study diesel mechanics at CVTC and drove truck for his father's company, Reeves Distribution, hauling milk for Kemps Dairy.
John was united in marriage to the love of his life, Lynn Spindler, June 6, 1987. They began their life together in Eau Claire, before moving to Arcadia, then Strum, where they raised their son and daughter, while John took on a production/ inventory control management position with Ashley Furniture.
They purchased their home in Bridge Creek Township, rural Augusta, and John took on another management position with Bush Bros. Canning Co.
At an early age, John developed a love for automobiles, both restoring, then showing them in competitions. At age 15, he acquired a 1940 Chevy car he restored. His collection grew to include a 1939 Chevy truck, 1962 Oldsmobile, a 1980 Z28 Camaro and a 1977 Corvette.
His motorized interests grew to include riding Harleys, a pastime that was dear to his heart and he enjoyed with his wife, son and many great friends. He also enjoyed hunting, fishing, and spending time with cherished family and friends.
John was also an honorable firefighter for the Strum-Unity Fire and Rescue Department.
He will be dearly and deeply missed by Lynn, his loving wife of 32 years; son – Dustin Reeves, Chippewa Falls; daughter – Kimberly Reeves, Fargo, N.D.; granddaughter – Alice Berg; parents – Bill and Doris Reeves, Chippewa Falls; four sisters – Linda Reeves (Mark), Nekoosa, Patty (Jeff) Liittschwager, Clive, Iowa, Carol (David) Hakes, Cornell, and Jackie (Andy) Bruns, Greencastle, Pa.; and several beloved nieces and nephews.
A memorial service was held Saturday, Dec. 7, at 11 a.m., at St. Paul Lutheran Church in Augusta, with Pastor Gary Sahs officiating.
The family was assisted by Anderson Funeral Home in Augusta.
82604