Posted on
Robert 'Ribbie' Hinker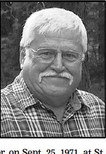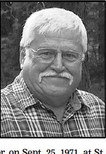 After seven months of valiantly battling cancer and liver disease, Robert "Ribbie" Hinker, 70, Greenwood, left us on Sunday, Nov. 10, 2019, to go shake hands in the heavens. A Celebration of Life will be held at 11 a.m. on Saturday, Dec. 7, at St. Mary's Catholic Church in Greenwood. Rev. Leo Johnson will officiate, and burial will follow in St. Mary's Catholic Cemetery. Visitation will be held at the church, on Friday, Dec. 6, from 4-8 p.m., and on Saturday from 9:30 a.m. until time of service.
Robert Leo Hinker was born on Sept. 1, 1949, in Marshfield, to Barbara (Pink) and Sylvester Hinker. He attended St. Mary's Catholic School and graduated from Greenwood High School in 1967. Continuing their high school romance, Ribbie married his love, Donna R. Hefner, on Sept. 25, 1971, at St. Mary's Catholic Church in Greenwood. Ribbie loved all sports, specifically softball games and the Chicago Bears. His love of the game, regardless of sport, was then spent enjoying watching his grandsons and nieces and nephews on the field. He truly treasured all the memories made with his family and friends. Being a "people person", Ribbie held various sales positions, exemplifying that with most currently being part of the Courtesy Truck and Auto "family" in Thorp. No matter where Rib worked or played, he always brought a special hometown proud attitude, and you were greeted with a handshake, smile and made to feel welcome as if he had known you his entire life.
Ribbie is survived by and will be dearly missed by his wife, Donna, of Greenwood; his children: Amy (Shawn) Standiford of Eau Claire, and Justin (Lori) Hinker of Excelsior Minn.; five grandsons: Storm and Sawyer Standiford, Maxwell and Taye Hinker, and Kyle Chmela; his siblings: JoAnn (Lester) Kaiser of Marshfield, Gene (Marilyn) Hinker of Loyal, and Allen (Sandra) Hinker of Greenwood; his sistersin- law: Marlene Hinker and Carolyn Hinker, both of Greenwood, Corrine Hinker of Marshfield, and Audrey Hinker of Wausau; his brother-in-law: Tom (Susan) Hefner of Oconomowoc; along with many nieces, nephews, great-nieces and great-nephews, other relatives and friends.
Sadly, Ribbie was preceded in death by his parents; brothers: Larry, Jerry, Jim, Bill, Francis and Ron; a sister-in-law: Sharon Hinker; a brother-in-law: James Hefner; a niece: Roxanne Hinker; and a nephew: Shawn Hinker.
Online condolences may be expressed at www.cuddiefh.com.
Cuddie Funeral Home, Greenwood, is assisting the family with arrangements.
PAID OBITUARY 82326