Posted on
Vernice Bernice Marion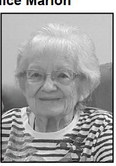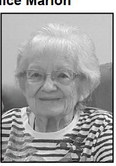 Vernice Bernice Marion, 84, passed away peacefully Friday, Nov. 22, 2019, with loved ones by her side.
Vernice was born to Pearl and Esther (Peterson) Steinmetz,
Oct. 6, 1935. She grew up in the New Auburn area, and graduated in 1953, from New Auburn High School.
Vernice was united in marriage to James "Jim" Marion Oct. 15, 1953. Together, they had two children, James "Jimmy" and Joanne.
They lived in Stanley on the family farm. She was a homemaker all her life. Vernice and Jim also raised over 25 foster children.
She enjoyed sewing, knitting and her church, Full Gospel Mission, where she taught Sunday School for several years, and she also had a love for dogs. She moved to Cadott in 2015.
Vernice loved visiting with her friends at the apartment, she was always so soft spoken, so they had to listen closely. They were like family to her. She will be dearly missed by Carolyn and Ray Marion, and Chris Jakubowicz, who were always by her side for many years.
And in the end, thank you to her other caregivers, Barb Helland and Janet Eichner, and a special thank you to her foster daughter, Tammy Capps, who came to stay with her until the end. She loved you all. And, to St. Joseph's Hospice for all their love and support.
She is survived by her daughter – Joanne (Scott) Creaser; three grandchildren – Chad, Stacy and Jason; great-grandchildren; nieces; nephews; cousins and her caregivers.
She was preceded in death by her parents; her husband – Jim, son – Jimmy; and her brother – Gordy Steinmetz.
Services will be held at 1 p.m., Wednesday, Nov. 27, at Leiser Funeral Home in Cadott, with Pastor Michael Larrabee officiating. Interment will be in the Edson Union Cemetery, Town of Edson, following the service.
Visitation will be from 11 a.m., until the time of service, Wednesday, at the funeral home.
In lieu of flowers, memorials are preferred to St. Joseph's Hospice, 2661 Cty. Hwy. I, Chippewa Falls, WI 54729. 82054