Posted on
Lois M. Kvapil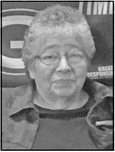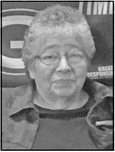 Lois M. Kvapil, 82, Jim Falls, passed away peacefully Monday, Nov. 18, 2019, at Cornell Health Services.
Lois was born March 25, 1937, to Lucille (Cornieller) and John Sedlacek.
She went to elementary school at the Matott School in the Town of Arthur, then attended high school in Cadott.
Lois married Daniel P. Kvapil Jan. 26, 1957, in Cornell.
She was always doing something to keep herself busy; primarily cooking for others. Besides working as a bartender for the Crescent Tavern and cooking at Randy's Jim Town Inn, she enjoyed catering weddings when she was able.
Cooking was her passion and her way of showing her love for others. When she wasn't busy cooking, she would assist at the Anson Town Hall as a poll worker during elections.
Beyond sharing her love for the culinary arts, she found enjoyment in cheering on the Green Bay Packers and the Chicago Cubs.
She is survived by her sister – Mary (Ken) Abraham; brother – Lenny (Kay) Sedlacek; nine children – Linda Kvapil, Tom Kvapil, Bill (Sandy) Kvapil, Lorraine (Dan) Fasbender, Mary (Marshall) Kvapil, Marsha (Will) Kvapil, Michelle (Scott) Strassburg, Paula Kvapil and Dennis (Gloria) Kvapil; 17 grandchildren; 36 great-grandchildren; brother-in-law – Sam Kvapil; companion – Albert Witkus; his daughters – Heidi, Dawn, Wendy, Amy and their families; and her beloved dog – Annie.
She was preceded in death by her parents – John and Lucille Sedlacek; her stepfather – Frank Paul; her husband of 38 years – Daniel Kvapil; brothers-in-law – Steve Kvapil and Walter Kvapil; sister – Charlene Flint; sisters-in-law – Martha Ekum, Ardith Kvapil and Irene Samek; brother – Jim Sedlacek; and daughter-in-law – JoAnne Kvapil.
Services will be held at 11 a.m., Friday, Nov. 22, at Big Drywood Lutheran Church in Cadott, with Pastor Lucy Schottelkorb officiating. Interment will be in the church cemetery, following the service.
Visitation will be held from 4-7 p.m., Thursday, Nov. 21, at Borton-Leiser Funeral Home in Cornell, and also one hour prior to the services, Friday morning, at the church.
Online condolences may be expressed at bortonleiserfuneralhome. com. 81633