Posted on
Mark Thomas Schoonover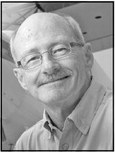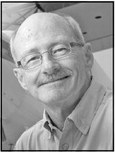 Mark Thomas Schoonover, 65, passed away Monday, Oct. 28, 2019, surrounded by the love of his family, at his home on Island Lake. He died, after courageously battling cancer over the last several months.
Mark was born in Eau Claire, Jan. 15, 1954, to Tom and Marilyn Schoonover. The family eventually landed in Cornell, which became home to Mark for the next 20 years.
Upon graduation from Cornell High School in 1972, he sought employment at the Cornell Paper Mill. In the fall of 1974, Mark became a student at UW-Eau Claire and the following summer, he was accepted into AVROC, Naval Aviation Officer Candidate School at the Pensacola Naval Air Station.
After graduating with a degree in geology and geography, Mark finished his training at Pensacola, Fla., and was commissioned an A-6 bombardier navigator. His next assignment was to be attached to VA-145 on the aircraft carrier
USS Ranger, which was stationed at Whidbey Island, Wash.
Mark's Navy career gave him lasting friendships and incredible experiences that he was deeply proud of. By 1990, he had decided to retire from the Navy and begin a new career, working with his father at Hobbs Supply Company in Eau Claire.
Mark and his father decided to take on a new adventure in 1992, and the Subway business began.
He married Traci Zwiefelhofer Aug. 5, 2005, and together, they raised Abigail and have cherished their 14 years together. Abigail was the twinkle in Mark's eye and he loved sharing his interests with his family.
Along with flying, Mark loved the outdoors. He made many trips hunting grouse, as well as fishing in the remote Canadian wilderness.
Mark was a generous, kind and thoughtful man, always willing to give his time and talent to his family, friends and community. Faith was a big part of Mark's life and that was exemplified by his service to St. Paul's Catholic Church.
He is survived by his wife – Traci; his daughter – Abigail; his mother, Marilyn, Eau Claire; his sisters – Cheryl, Eau Claire, Jan (Ken) Sharp, and children Jenny, Sam and Chloe, Lakewood, Wash., Kris (Karen Kilsdonk), Hartland, and Wendy (Chuck) Kessler, and children Grace and Sophia, Edina, Minn.; his in-laws – Marion and James Zwiefelhofer, Bloomer; sister-in-law – Tammy (Steve) Niebling, and children Michael and Carter, Gilbert, Ariz.; and his brother-inlaw Tom (Michele Eberle) Zwiefelhofer, Chetek.
Mark was preceded in death by his father – Tom Schoonover.
A Mass of Christian Burial will take place at 1 p.m., Monday, Nov. 4, 2019, at Saint Paul's Catholic Church in Bloomer, with Father Victor Feltes celebrating the Mass. Burial will immediately follow at St. Paul's North Catholic Cemetery in Bloomer.
Visitation will be held from 4-7:30 p.m., Sunday, Nov. 3, at the Celebration of Life Center in Altoona. A Christian Vigil Service will begin at 7:30 p.m.
Visitation will continue from 12-1 p.m., Monday, at St. Paul's Catholic Church in Bloomer.
Memorials are preferred to St. Paul's Catholic Church in Bloomer.
Thompson Funeral Home & Chippewa Valley Cremation Services in Bloomer, is serving the family.
Online condolences may be expressed at thompsonfuneralhome. com. 80593