Posted on
Daniel "Dan" Duane Eichelt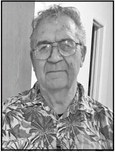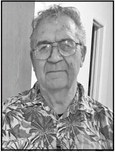 Daniel "Dan" Duane Eichelt, 82, formerly of Cornell, died peacefully at Suncoast Hospice in St. Petersburg, Fla., Thursday, Oct. 17, 2019.
Dan was born Sept. 24, 1937, in Bismarck, N.D., to the late August and Ameila (Dutt) Eichelt.
The family moved to Gilman, when he was a young boy.
Daniel met Beverly "Bev" Helgerson and they were united in marriage Feb. 27, 1960, at the Little Brown Church in the Vale in Nashua, Iowa.
Dan and Bev owned, and operated, Eichelt's Cafe and Dan's Grocery Store in Cornell, for several years, until he began his career as a food service salesman for Indianhead Foodservice in Eau Claire. Dan worked as a foodservice salesman for over 30 years, retiring at the age of 62.
He and Bev traveled around the United States, in their motorhome, and later made their home in Florida and Wisconsin.
His memories will be left with his daughters – Becky (Todd) Felmlee, Cornell, and Dana (John Taluc) Eichelt, St. Petersburg, Fla., his son – Eric (Tonya) Eichelt, Balsam Lake; brothers – Herb (Janie) Eichelt and Jewel "Joe" Eichelt; sister – Elaine Kinson; sisters-in-law – Sandra Eichelt, Elsa Eichelt, Diane Helgerson and Shirley Helgerson; grandchildren – Lacey, Maddie, Danielle, Christopher, Jacob and Connor; and several great-grandchildren; nieces and nephews.
He was preceded in death by his wife – Beverly; his parents – August and Ameila; brothers – August Jr. and Don; sister-in-law – Judy Eichelt; and brothers-in-law – Duane and Edward Helgerson.
In lieu of cards or donations, we ask you take a moment to hug your child, grandchild, friend or walk in the woods for a moment, an hour, or a day. Time waits for no one.
Private family services will be held at a later date.
"There is no death. Only a change of worlds." ~ Chief Seattle 80578