Posted on
What is coming, is better than what is gone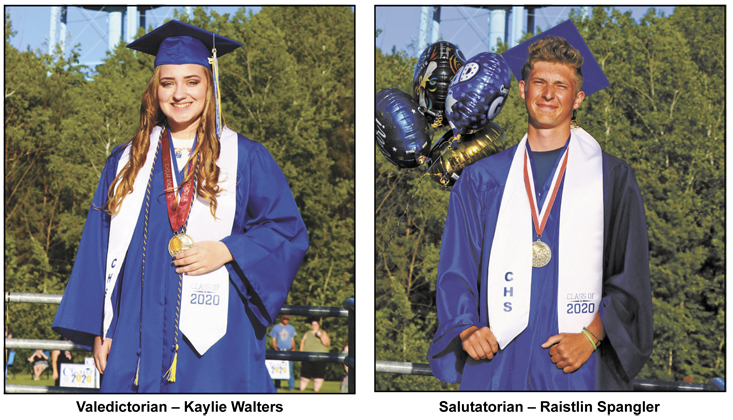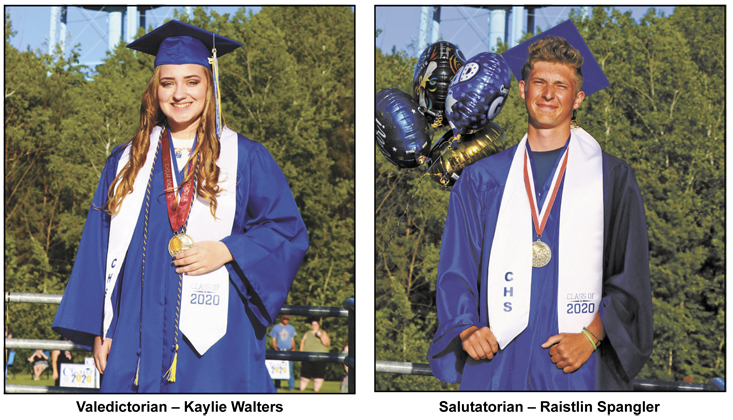 The 104th Cornell High School graduation commencement ceremony looked very different from previous years, as the COVID-19 pandemic required social distancing and an outdoors ceremony. The football field was filled with family (in their own space) of the 24 seniors June 5, as the students lined up on their designated "X" on the track.
"What a final quarter of the year we have had," said principal Dave Elliott. "Words like resilience, adaptability, flexibility, persistence, tolerance, frustration and restraint…come to mind."
After school buildings closed in March, indefinitely, graduates were forced to study online, while not seeing their friends each day.
"Our seniors have demonstrated over the last three and a half months, that they can be ready for everything," said Elliott. "And they need to be ready for anything. It is time for them to steer their own ship."
Valedictorian Kaylie Walters agreed that it wasn't exactly the celebration the seniors had in mind.
"We cannot even group up at the end of the ceremony to give our class call," she said. "All of Cornell's class traditions have been denied for this class of seniors. COVID-19 hit the Class of 2020 like a plow truck. We had so many things to look forward to."
Whether it was wondering who Mrs. Hickethier would send to the office that day or who Mr. Leland would send to get water during class, Walters says she misses her school life.
"These are days we will never get back," said Walters. "I would give anything to have one more day of school."
Despite the hardships the seniors have faced over the last several months, Walters said memories of the past will keep her excited for the future.
"After all, what is coming, is better than what is gone," said Walters.
Taking his turn to address the class, Salutatorian Raistlin Spangler said there has been non-stop laughter and fun.
"There's been no dull moment with this class," he said.
Spangler said no matter what the future holds, he knows his classmates will enjoy their time on earth and live life to the fullest.
"I hope my classmates never forget who they are, where they came from and the amazing time we have spent together," said Spangler, "and the countless memories we have made together."
Scholarships and awards presented, include the following:
• Jolé Anderson – Cornell Greenhouse ($500)
• Bryanna Bonander – Dr. John and Marge Parker Honorary ($1,000); Excellence in Education ($200)
• Tyler Harycki – Cornell Spirit Club ($250)
• Charity Hessler – American Legion ($1,000); Cornell Teachers Credit Union ($1,000); Edward and Hannah Rutledge (amount unknown); FFA ($500); Frank and Susan Huettner (amount unknown); Robert H. and Janice Currie ($1,000)
• Tara Popp – R. L. Hendrickson ($1,000)
• Reegan Rieder – Gene Haas ($333)
• Raistlin Spangler – Excellence in Education ($200); Frances Cleaves ($300)
• Jordan Spegal – Gene Haas ($333); Manufacturing Works 2020 ($500); Wisconsin Technical Excellence Scholarship ($6,750)
• Tanner Stephens – Gene Haas ($333)
• Clair Winrich – American Red Cross ($250); Chippewa Valley Electric ($500); Citizens State Bank ($500); Masonic ($400); Tom's Sales & Service ($250)
• Kaylie Walters – Cornell Lions Club ($2,000); Excellence in Education ($200); Bruce Conley Memorial ($1,000); Paul and Lucille Holden ($2,100); R. L. Hendrickson ($1,000); Tom's Sales & Service ($250); Wisconsin Academic Excellence ($9,000)