Posted on
Hornets split the final games before playoffs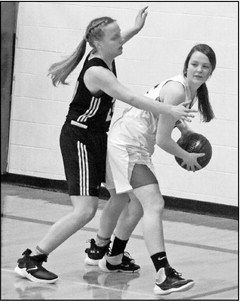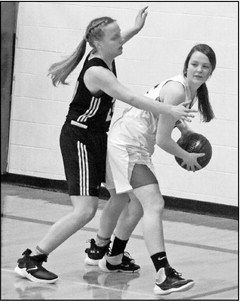 Playing in their final two games before the post-season starts, the Cadott girls basketball squad took on non-conference opponents Glenwood City and 3rd Place East.
Feb. 18 vs. Glenwood City non-conference (W 48-24)
Last night was a good game for the girls," said coach Dave Hazuga. "I thought we did some of those things we are keeping the focus on."
Cadott went into halftime up by six on the road and limited Glenwood City to just 10 points in the second half, to seal a 48-24 win.
"We came out in the second half and held them scoreless for quite a few minutes," said Hazuga. "That really sparked our offense."
Junior Jada Kowalczyk was the leading scorer for the Hornets, racking up 19 points on the night. Senior Abby Eiler contributed 6 points, including two from beyond the arc. Junior Meadow Barone also added 6 points to the score.
Freshman Elly Eiler knocked down a three, finishing with 4 points and senior Paisley Kane also had 4 points. Shooting a three-pointer each, were senior Jasmine Horvat and freshman Laken Ryan.
Chipping in with 1 point each, were seniors Jennifer Sonnentag and Autumn Bremness, as well as freshman Lauryn Goettl.
"At this point in the year, we're trying to stay sharp and still see if we can improve in our consistency," said Hazuga.
Feb. 20 vs. 3rd Place East non-conference (L 51-48)
Cadott was back on the court two days later, taking on 3rd Place East in a crossover battle on the Hornets' home court.
The Hornets led by a single digit at halftime.
"We played a strong team last night," said coach Dave Hazuga. "We led most of the way. They had a big run in the second half and went up by 10. Our response was great."
Cadott answered back with a few defensive stops, and some threes from Goettl and E. Eiler. It wasn't quite enough and the Hornets saw the game go to their opponents, 51-48.
"Just came up a little short," said Hazuga.
Not all was lost, as Kowalczyk had a career-high 30 points, followed by E. Eiler with 6 points, all from three-pointers. Bremness also knocked down a three, finishing with 4 points.
A. Eiler and Goettl ended the night with 3 points from shots beyond the arc. Barone rounded things out with 2 points.
"We have a few days now to get ready for our next game," said Hazuga. "We know what we can do and we will keep working to be ready."