Posted on
Lake Holcombe starts week out slow, plunder Pirates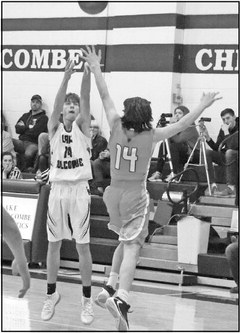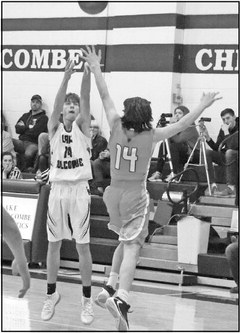 The Lake Holcombe boys hit a bump to start out the week, falling to Birchwood and Rib Lake, before blowing out Gilman to finish the week's basketball.
Jan. 28 vs. Birchwood conference (L 58-45)
The Chieftains couldn't overcome the league-leading Birchwood, as the conference team earned the away win. Lake Holcombe was down, 33-24 at the half and struggled to come back, while holding the opposition's offense.
Unfortunately, the Chieftains couldn't pull out the win, falling at home, 58-45.
Senior Kaden Kinney led the team with 4 assists and also had 4 points. Senior Jarred Jiskra led the team with 9 rebounds, followed by Kinney and junior Brock Flater with 7 rebounds each.
Jiskra also had 12 points, six of those from three-point shots, while Flater led the team with 5 steals. Junior Kaden Crank ended the night with 14 points, including a shot from beyond the arc and sophomore Dylan Bowen had 5 points, splashing a triple.
Flater finished with 2 points, as did senior Josh Jones. Junior Will Kliegle chipped in with 6 points.
Jan. 31 vs. Rib Lake non-conference (L 87-52)
Three days later, Rib Lake came to call, but missed shots down the road led the Chieftains to a home defeat. Lake Holcombe was only down seven at halftime, but Rib Lake's offense kicked into gear in the second.
With Lake Holcombe's shots not falling, Rib Lake took the match-up, 87-52.
"We played a strong first half, but just couldn't get the ball to fall the second half," said coach Joy Webster.
Jones led the team with 3 assists and Crank led with 9 rebounds, followed by Jiskra, with 6. Kinney racked up 14 points, including two, three-pointers, while Crank had 12 points on the night, with a three-point shot.
Jiskra ended his night with 12 points, Flater had 5, three of those from long range, and freshman Brendan Anders sank a three-pointer. Senior Tyler Dixon got in on the action, with 4 points and sophomore Colton Minnick chipped in with 2.
Feb. 3 vs. Gilman non-conference (W 91-53)
After the weekend to clear their heads, Lake Holcombe nearly hit the century mark in an away game against Gilman.
The Chieftains scored 49 points in the first half, opposed to Gilman's 14. Gilman came roaring back in the second half to notch 39, but faced with an additional 42 points from the Chieftains, the lead was too big to overcome.
Lake Holcombe walked away with a 91-53 non-conference victory.
Flater got in the groove for 28 points, five of those from three-point land, while Crank racked up 24 points, with one shot from beyond the arc. Kinney also got in on the three action, nailing several from long range for his 18 points.
Jiskra finished his night with 12, Jones added 6 and Anders chipped in with 2 points. Bowen rounded things out with 1 point.
Lake Holcombe is sitting at 11-5 overall and 6-4 in conference play.