Posted on
Lake Holcombe moves into second place with wins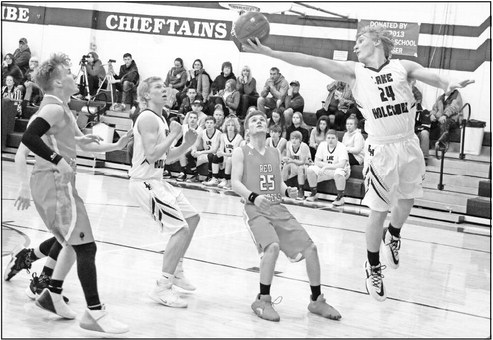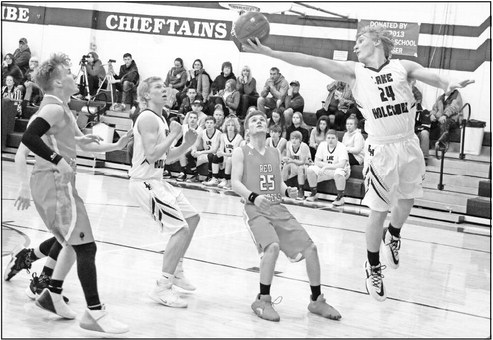 The Lake Holcombe boys basketball program was on a roll, with three tough games in their week's schedule.
Jan. 21 vs. Bruce conference (W 77-33)
The energy was high for the Chieftains, as they hosted conference opponent Bruce. Lake Holcombe jumped out to an early lead over the Red Raiders and never looked back.
At halftime, Lake Holcombe led, 45-16, allowing only 17 points to be scored on them in the second half. Many bench players saw some good minutes, helping the team to a 77-33 home win.
Junior Brock Flater, and seniors Josh Jones, Kaden Kinney and Jarred Jiskra combined for 18 assists. Kinney had another double-double, leading the team with 17 points and 15 rebounds, including a three-point shot, followed by Jiskra and Crank with 8 rebounds each.
Flater, Jones, Kinney, Jiskra and junior Kaden Crank played good pressure defense throughout the night, combining for 25 steals.
Flater came next in the scoring, with 15 points, while Crank had 14 and Jones knocked down 9 points. Jiskra ended with 7 points, as did senior Tyler Dixon, who swished a three.
Freshman Brendan Anders and junior Derek Jones had 4 points each.
Jan. 24 vs. New Auburn conference (W 64-53)
Lake Holcombe then took on New Auburn in an away match-up, with the visitors coming home the victors. The Chieftains moved into second in the East Lakeland Conference with the win.
"Five players once again reached double figures and Brock was close behind with 9," said coach Joy Webster.
Lake Holcombe and New Auburn were tied up 32-32 at halftime, and the game remained close, but it was the Chieftains who pulled out the victory, 64-53.
J. Jones led the team with 5 assists, followed by Kinney and Jiskra with 4 apiece. Kinney led the team with 8 steals, followed by Crank with 3. Jiskra had a double-double, with 10 points and 10 rebounds, followed by Kinney with 8 rebounds.
"Tyler Dixon had a great game off the bench and chipped in 10 points," said Webster.
Crank ended the night with 13 points, followed by Kinney with 11 and J. Jones, who also recorded 11.
Jan. 27 vs. Luck non-conference (L 76-56) The Chieftains were back on their home court after the weekend off, but the offense wasn't there, as the visiting Luck outscored Lake Holcombe. Luck was up 38-30 in the first half and the Chieftains were limited to 26 points in the second, while Luck went on to add another 38 "Luck came in very confident…the score does not tell the closeness of the game," said Webster. "We had pulled to within 10 with five minutes to go, but couldn't get past their size."
The visitors took the game, 76-56, handing Lake Holcombe just their third loss of the season.
Kinney led the team with 18 points, with 12 of those from beyond the arc, followed by Crank with 13, including a three from long range. Flater shot for 11 points, nine of which were three-pointers. Jiskra added 7 points, while J. Jones had 4 and Dixon knocked down a triple for 3 points.