Posted on
Lake Holcombe splits conference match-ups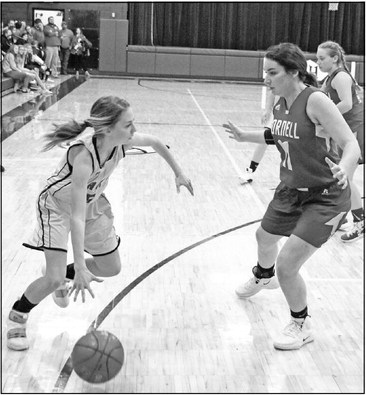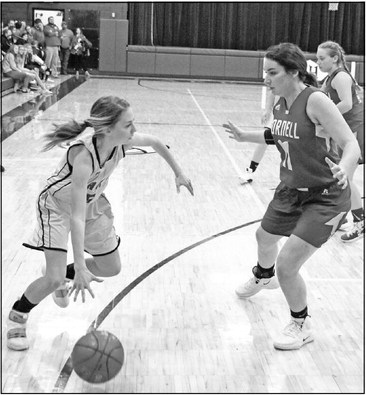 The Lake Holcombe girls basketball squad took a break from East Lakeland Conference action, hosting games this week, against Prairie Farm and Lac Courte Orielles (LCO).
Jan. 14, vs. Prairie Farm (L 75-33)
Lake Holcombe stayed on home turf for their first match, taking on a tough Prairie Farm team. Prairie Farm jumped out to a large lead at halftime, holding the lead against the Chieftains, 47-22.
"Prairie Farm moved the ball very well and set up a great press," said coach Jennifer Lechleitner.
The Chieftains held their opponents to 28 points in the second, but were also limited on their side of the scoreboard, recording just 11 points. Prairie Farm's lead was too big for Lake Holcombe to catch up and the home team conceded defeat, 75-33.
"Lake Holcombe girls worked hard, but getting back in defense and lack of rebounds, hurt our performance," said Lechleitner.
Sophomore Brook Lechleitner was the high scorer for the night, racking up 10 points. Junior Allison Golat-Hattamer came next, with 8 points, followed by senior Megan Lechleitner. The night was noteworthy, as this was M. Lechleitner's first game of the season, after a second repair to her ACL.
Rounding out the scorers' column, was freshman Justine Kane, with 4, fellow freshman Karly Kirkman with 2, and sophomores Josi Elmberg and Carly Vavra with 2 and 1 points, respectively.
Jan. 16, vs. LCO (W 45-40)
The Chieftains stayed at home for the next battle, this time, against LCO. The two teams were deadlocked at halftime and remained that way for most of the game. Lake Holcombe proved to be the toughest on the court and pulled out a 45-40 win.
"Many athletes for Holcombe were able to score," said J. Lechleitner. "We counted missed bunny shots and lay-ups, which equaled 30 plus. Therefore, we could have won by much more than the actual score."
Hattamer and B. Lechleitner, who are usually in the high teens each game, saw low scoring, with Hattamer recording 10 points, while B. Lechleitner scored 11. Of her points, three of those came from outside the arc for Hattamer.
M. Lechleitner also nailed a triple, coming away with 9 points. Kirkman ended the night with 6 points, Kane had 5 and freshman Belle Jones tallied 4. Junior Bailey O'Connor got on the board with 2 points and Vavra finished with 1 point.
With the win, Lake Holcombe is now at .500, with a 5-5 record.
"I am happy to see the girls shooting," said J. Lechleitner. "However, when we miss such close shots, that's hard on our team and we need to work that much harder on defense."