Posted on
Cadott splits games coming off the break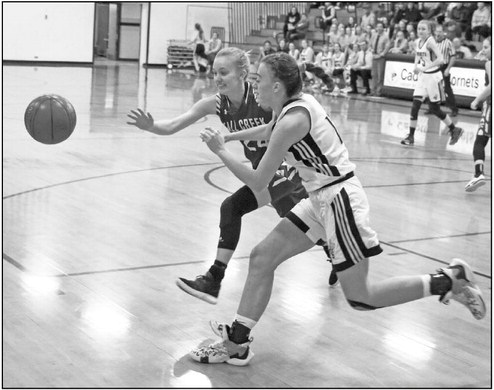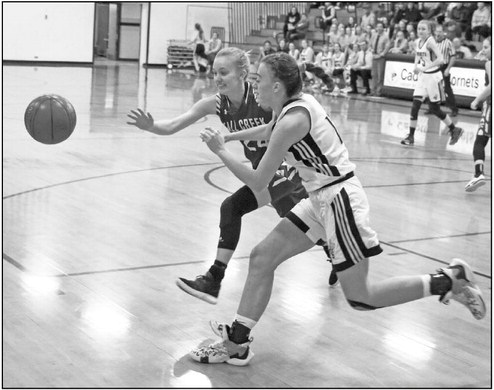 The new year started out for the Cadott girls basketball team with a home game against a tough Fall Creek squad, then continued with a trip to Whitehall.
Jan. 3 vs. Fall Creek conference (L 37-29)
The Hornets were evenly matched with their opponents for the first half, with Cadott only down one at halftime after some missed free throws, but Fall Creek pulled away for the 37-29 win in the second half.
"We executed on both ends of the court really well and gave ourselves a chance to win," said coach Dave Hazuga. "I was impressed with our play."
Junior Jada Kowalczyk led the Hornets with 11 points, followed by freshman Elly Eiler with 7, including two, threepointers. Junior Meadow Barone came next with 6 points and senior Abby Eiler splashed a three-point shot to add to Cadott's score.
Freshman Lauryn Goettl rounded things out with 2 points.
"We've got things to work on," said Hazuga. "I anticipate we are going to have a lot of tough games the rest of the way; we look forward to each challenge."
Jan. 6 vs. Whitehall non-conference (W 52-21) Cadott was on the road for their next match-up, taking on Whitehall. It was all Cadott, all night, as the Hornets scored 24 points to Whitehall's 10 in the first half.
"Jada (Kowalczyk) attacked early on the inside," said Hazuga. "From there, the outside started opening up and we had a good number of shots."
Coming out of halftime, it was still Cadott's game. Whitehall's offense couldn't get going and they were held to just 11 points for the rest of the game. The Hornets walked away with an easy 52-21 victory.
"We executed well tonight, moved the ball good on offense and took what the defense gave us," said Hazuga. "Our defense has been the most consistent thing all year.
Kowalczyk again topped the leaderboard with 14 points, while A. Eiler was right behind her with 9 points. Goettl, junior McKenzie Prokupek and senior Paisley Kane all added 6 points.
Senior Autumn Bremness connected on a three-point shot, and E. Eiler and sophomore Olivia Goodman each chipped in with 3 points. Barone finished her night with 2 points.
"The girls work hard at executing and it showed tonight," said Hazuga.