Posted on
January The Cadott Police ….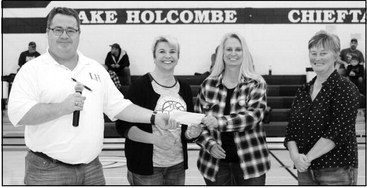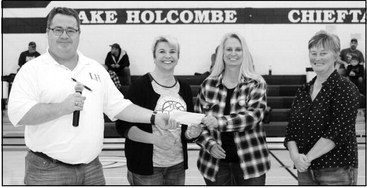 January
The Cadott Police Department arrests two people, with charges of possession with intent to distribute drugs. After conducting a search of the suspects' car, the department recovered 74.3 grams of methamphetamine, 16 grams of cocaine, small bags of heroine, smoking pipes, 107 prescription pills packaged for sale and other drug paraphernalia.
Thanks to donations from businesses and individuals, a Courier Sentinel Diaper Drive collects more than 4,000 infant and adult diapers, as well as feminine products and formula. The items were then distributed to the Cornell and Lake Holcombe food pantries.
Cornell now has more coverage, with the addition of a third, full-time police officer. Officer Nick Maurice has been with the department in a part-time capacity for two years, and says he looks forward to giving back to the community.
Those in need within the Cadott School District, have somewhere to turn, as special education teachers Aleisha Merritt and Jordan Risberg begin a community closet. There, students and adults can take home needed items such as clothing, boots, jewelry, toys and hygiene products.
The Cornell and surrounding communities rejoice, after 13-year-old Barron teen Jayme Closs is found alive, after escaping her captor who shot and killed her parents in October. Jake Patterson, 21, held Jayme against her will for 88 days in his Gordon home, and now faces counts of homicide and kidnapping.
Green Bay Packers great Leroy Butler visits Cadott and Lake Holcombe schools, where he shares his story of growing up disabled and without much money, to his rise to the NFL. Once his talk was complete, Butler signed autographs and posed for photographs with students, teachers and staff.
Gordy's Market looks to be in trouble yet again, after a motion hearing again appoints receiver Michael Polsky to settle debts owned to the Nash Finch Company. The Gordy's chain underwent receivership less than a year ago, selling many of the company's locations, excluding the Cornell branch.
Gary Gehler is named as the Cornell American Legionnaire of the Year, for his willingness to volunteer in projects and activities.
Deaths: Charles Ingles; Clarence Boyea; Cheryl Beighley; Mike Drath; William Palmer; Bertha Leja; Virginia David; Janet Brown; Doris Black; Howard Ricker; Judy Moungey
February
The area is hit with minus 60 degree wind chills, in what meterologists call a polar vortex. As a result, garbage pickup, mail delivery and other services are suspended, and businesses and schools are closed statewide.
Senior Sam Pickerign wrestles his way to the Lakeland Conference championship in the 132-pound division, while teammate Spencer Kraus takes the podium in the 160-pound weight class.
The Cadott Hornets Wrestling team finishes the regular season as co-champs of the Cloverbelt Conference. Senior James Pfeiffer (170), junior Brady Spaeth (160) and sophomore Nelson Wahl (145), earn the titles of conference champion.
Brady Spaeth, James Pfeiffer, Nelson Wahl and Josh Brigss all become Regional champs in their respective weight classes for the Cadott Hornets Wrestling team.
The Cornell-Gilman Wolfpack Wrestling team advances Sam Pickerign and Spencer Kraus to Sectional competition, after the pair wins their divisions during Regional action.
More than $1,000 and 400 pounds of food is collected, during the annual Marcellis family Christmas party. The donations are given to the Cadott Food Pantry, from the event.
The Cornell Gordy's Market is set to be auctioned off, after the chain once again falls into receivership. Nash Finch Company claims they are owed more than $46 million, and Gordy's assets must be sold to help pay that debt.
Cadott sends six wrestlers to State competition – senior James Pfeiffer, juniors Brady Spaeth and Ethan Tegels; sophomore Nelson Wahl; and freshmen Kaleb Sonnentag and Gavin Tegels.
Making the trip to the State wrestling tournament for the Cornell-Gilman Wolfpack, are senior Sam Pickerign and junior Spencer Kraus.
Gordy's Market in Cornell, closes for a few hours to clear snow off the store's flat roof, after a blizzard warning dropped more inches of snow. It's estimated that 80,000 pounds of snow were on the roof of the grocery store.
Cadott's Brady Spaeth is the State champion in the 160-pound weight class at the WIAA Individual State Wrestling Tournament. Spaeth ends his season with a perfect record and a family legacy, as his father/coach Josh Spaeth, was also a State champion.
Deaths: Rosalie Randall; Duane Johnson; Mary Jo McCabe; Marion "Mar" Johns; Elaine Dumholt; Edward Simenson; Dianne Walker; Carol Helgerson; Robert Helgerson
March
Kurt Lindau is named the new superintendent of Lake Holcombe School and will assume his new responsibilities July 1. Lindau is a native of Bruce, and currently acts as the Winter School District superintendent.
Donkey basketball games are held in Cadott, sponsored by the FFA, receiving many laughs from a full gym. Consisting of FFA members, school athletes and staff members, the teams vie for bragging rights, all while trying to stay atop their animal.
The Cornell Gordy's location is sold to Nash Finch Company and the store will be converted to SpartanNash's Fare Supermarket in the coming months.
Cadott physical education teacher Kari (Rowkamp) Moldrem is selected to the Athletics Hall of Fame at UWStevens Point. During her college career, Moldrem helped lead her team to a national softball championship.
After deliberation and weighing concerns from the community, the Cadott School Board agrees to place the district buses for sale. The buses have been leased to Kosbussen since 2018.
Civil rights activist Joan Trumpauer Mulholland is a speaker at Cadott High School, where she talks about her life of working for others' rights. In daring to participate
(Continued on Page 8) (Continued from Page 7)
in sit-ins, Mulholland was put on death row in Parchman Penitentiary, and faced abuse and death threats from those against her mission.
With rain and rapidly melting snow as temperatures rise, snow melt causes flooding on roads, fields, yards and in houses. Businesses are also affected, including Cornell's Family Dollar, causing the store to close for a week or more.
Cadott youth wrestlers head to State competition. During the State run, Iszybelle Sonnentag and Tessa York were crowned as champions.
Births: Abbigail Boulding Deaths: Kenneth Mitchell; Dennis Knez; Alan Wik; Cecelia Harm; Anton Hillebrand; Barbara Lee; Sandra Ryan; Viola Putman; Lucille Dzienkowski; Danny Braden; Thomas Hoel; Harvey Lange; Betty Luce; Barbara Marshall
April
Kindergarten teacher Rebecca Omtvedt is honored with the Herb Kohl Fellowship Award, for her ability to inspire and motivate students, and receives $6,000, as well as $6,000 for her district. Omtvedt is only the third teacher at Lake Holcombe School to be recognized with the award.
Cara Stevens is sentenced to two years in jail, in the deaths of four people east of Cornell, in May 2017. Stevens was accused of running a stop sign, which caused the fatal crash.
Jim Dobrzynski, Jim Falls, is elected to the Rural Builder Hall of Fame, for his part in advancing the post-frame in- dustry. Now semi-retired, Dobrzynski worked in sales and management, as well owning his own businesses.
Alex Mazur is cast in the Kids from Wisconsin band, based in Milwaukee, and will perform with the troupe over the summer. The Jim Falls native is a sophomore at UW-Eau Claire, and studies musical education.
Cadott senior Larissa Danielson is awarded a $10,000 Herb Kohl Foundation Scholarship, to help with her postsecondary education. Students are chosen for the honor, based on academic excellence and community involvement.
The area sees heavy snowfall, with blizzard conditions, wind and even lightning. With the measurable event, more than 97 inches has fallen, making it the snowiest winter on record.
Josh Jones is named as Lake Holcombe Prom king, while Paige Flater is crowned as his queen. The To the Moon and Back event was held off-campus this year, at Paradise Shores 4.
The Cornell Elementary School is hailed as a Wisconsin Title 1 School of Recognition for the eighth year, for success in educating students in a high poverty area.
Cadott's FCCLA team will make school history, as members Jada Kowalczyk and Taylor Lindsay will compete at the national level in Anaheim, Calif., in June. The duo presented a life event that was planned to a panel of judges and received marks based on their presentation.
Deaths: Steven Wajek; Barbara Goettl; Raymond Gay; Norman Braden; Ruth Anderson; Evelyn Geist; Mary Gilles
May
The Cornell Gordy's will be sold once again, this time to KJ's of Wisconsin, Inc., and will be rebranded as Fresh Market. SpartanNash will continue to distribute groceries and products to the store.
A blaze destroys the home of Scott and Amy Linskey in Holcombe. The family exited the house safely, but lost everything in the fire.
A mock crash, conducted by the Cadott Fire Department, demonstrates the dangers of impaired driving to students. With prom and graduation on the horizon, the school and emergency personnel wanted to ensure youth make good choices when celebrating.
Brady Spaeth and Jennifer Sonnentag are named as Cadott's prom king and queen. For Cornell, prom king and queen are Indy Palmer and Charity Hessler.
Kurt Manufacturing in Cornell, receives Business of the Year for Quadrant 2, during the Chippewa County Economic Development Corporation annual meeting. Formerly Cornell Corp., the company has seen a revival and is a leader in its field.
The Cadott Hornets Archery team excels at National competition in Louisville, Ky. High school members bring home seventh place, while the middle school team earns an eighth place finish.
A community veterans memorial is given the go-ahead to build at the Lake Holcombe Lions Club property on County Hwy. M. The memorial will need to raise at least $50,000 before any work will be completed.
Through the efforts of Doug and Mary (Flood) Carlson, the lost grave of Julia Rollette Brunet was discovered at the Cornell Cemetery. Brunet was an early pioneer of Cornell, and her footstone sunk below ground, almost lost forever, until the Carlsons found the stone and incorporated it into a new, lasting monument.
The Cornell-Lake Holcombe Knights Softball team earns bragging rights as the East Lakeland Conference champions. This is the second year in a row the team captured the title, this time, retaining sole possession.
Cadott senior Andy Hinzmann is headed to the State track meet, after qualifying in the 300-meter hurdles at Sectionals. Senior Orianna Lebal also qualifies with pole vault, as does sophomore Brooke Lechleitner in the 400-meter dash for Cornell-Lake Holcombe.
Deaths: Gladys Hartzell; Lee Mittermeyer; Janet Nelson; Margaret Fisk
June
Cornell senior Robert Fasbender is the recipient of a
(Continued on Page 9) (Continued from Page 8)
$10,000 Herb Kohl Foundation Initiative Scholarship, the first time anyone in Cornell has been awarded the money, since the foundation began in 1990. Fasbender plans to attend Chippewa Valley Technical College for the diesel truck technician program.
Linda Sblendorio, Holcombe resident, is named as the 2018 Wisconsin State TOPS (Take Off Pounds Sensibly) queen, at a ceremony at the State Recognition Days. Sblendorio met her goal to lose 100 pounds, last August.
Pvt. R. Patrick Bourget is honored and remembered at a stone ceremony at the Highground Veterans Memorial in Neillsville, for his unselfish service in the Vitenam War. Bourget made it home from the war, but was killed in a car crash only three weeks later.
A Cornell man is facing federal charges, after a search by the West Central Drug Task Force and Cornell Police Department, revealed 29-year-old Joshua Stein was allegedly distributing methamphetamine. If the charges against Stein stick, he could face five years incarcerated, or more, stemming from other charges.
Scott and Michele Bowe are named as this year's Cornell Citizens of the Year. The couple works with the local Cub Scouts and Michele runs the Cornell Community Closet, giving away clothes to those in need.
Cadott is without a high school principal, after the resignation of Peter Apple for a position in Iowa. The district does have two candidates in mind and will make a choice within a short time.
The sign welcoming people to Holcombe on State Hwy. 27 heading north, gets some sprucing up, thanks to efforts from Larry Becker, and the Lake Holcombe Resort and Business Association. The existing sign got a makeover, with landscaping that will be taken care of by the Green Team Garden Club.
Deaths: Mary Dietzler; Lorraine Spaeth; Michael
Hetchler; Delores Polzin; Chris Carothers; Donna Crawford
July
David Markham, 52, Cornell, is facing charges, after he is accused of punching a boy who complained he was hungry. Markham is headed for trial in November.
Cornell receives a $7,500 matching Twins Fields for Kids Grant, to be used for the softball fields at Mill Yard Park. The money will be used on fencing and lighting.
A three-year-old dies in a crash, after a minivan, driven by Alexandria Nulph, Cadott, collides with a dump truck, just south of Cadott at the intersection of State Hwy. 27 and County Hwy. MM, where both vehicles ended up in the ditch. The driver of the dump truck was unharmed, but Nulph had to be extracted and airlifted to a hospital, while the three-year-old passenger was pronounced deceased at the scene of the accident.
Storms roll into the area, just minutes after a confirmed tornado was spotted in Bruce. The storms cause damage to trees and gardens, but no injuries are reported.
The Cornell Floatilla looks to recapture a world record with a kayak/canoe parade. Unfortunately, the event does not draw in enough participants and a group in Poland continues to hold the record.
Kurt Lindau begins his duties as the new Lake Holcombe School superintendent. Lindau is from Bruce, and has been with several small area schools.
Cornell resident Lt. Scott Bowe receives the 2018 Shikar-Safari Club International Wildlife Officer of the Year Award, with his activities as a DNR warden supervisor for Rusk, Taylor, Price and Sawyer counties. Bowe previously received the Field Warden of the Year Award.
Caleb Hundt becomes the new Cadott High School Principal, with a background in special education and athletics director. Hundt was the assistant principal at Menomonie, before coming to Cadott.
The area is hit by severe storms, with high winds and frequent lightning, causing downed trees and power lines. This is the second damaging storm in a week's time, keeping emergency personnel and electric crews busy trying to restore power, remove trees and render assistance where needed.
Lake Holcombe School is named as a Best High School in the nation for 2019, according to rankings from the U.S. News & World Report. The school is ranked eighth in the Eau Claire metro area; 319th in Wisconsin, out of 517 schools; and 11,329th out of 17,245 schools nationally.
Deaths: Jim Hodowanic; Donna Berthold; Margaret Bluma; John Sinette; Deborah Gilbert; Chester DeJongh; Riley Kralewski; Ronald Litke; Gertrude Solie; Violet Coats; Suzanne Wergedal; Jeanette Schwab. August
Hailey Wellner is crowned as this year's Miss Cadott, at the annual Nabor Days weekend, while Joe Semanko serves as the 2019 parade grand marshal.
Thanks to a $295 donation from the Big Minnow in Holcombe, the Cornell and Holcombe Pack 2 Cub Scouts can purchase a lawn mower to keep their clubhouse property looking sharp. Hey Everything in Cornell, also helped with the donation, providing the machine at cost.
Cornell is awarded a $1 million Community Development Block Grant for Public Facilities, to help update the existing wastewater treatment plant. The plant is more than 30 years old, with an estimated $1.3 million renovation scheduled.
The Lake Holcombe Food Pantry receives a $5,000 donation from Northwestern Bank and $3,000 from the Chippewa County Economic Development Corporation. The funds will be added to money already collected for the pantry's move/expansion to the Lake Holcombe Lions Club pavilion.
Gerald Sachsenmaier, 56, Jim Falls, faces drug-related charges, following his arrest at Rock Fest in Cadott, in July, and is on federal probation. The Chippewa County Sheriff's Department was conducting surveillance as part of an investigation on Sachsenmaier's residence, and after seeing the suspect's car pull into the Rock Fest grounds, authorities discovered Sachsenmaier and others, could be under the influence of methamphetamine and in possession of $20,000 in cash.
A month-long school supply drive collects 876 items for the Cornell and Lake Holcombe school districts, and the Cornell Community Closet. The drive was conducted by the brother/sister Scouts team of MacKenzie and Donovan Bera.
The skateboard park at Cornell's Mill Yard Park, will see a face lift, with funds from the annual July 3 street dance, with dance organizer Dana Leschensky overseeing the revitalizing efforts. The site is around 20 years old, and is becoming unsafe.
Concerns are brought up from Cornell Police Chief Brian Hurt, over the condition of trailer courts on South Street, citing drug population and unsafe homes for tenants. After discussing the matter with the landlord, and members of the Public Health and Safety Committee, it's decided more discussion is needed before a decision can be made on any action taken by the city.
Deaths: Joan Braun; Richard Gabert; Alice McMenamin; Lee Glenn; Colben Colbenson; Violet Roth; Charles Jensen; Daniel Draeger; Diann Kosakoski September
The Cornell Area Betterment Association (CABA) donates $3,500 toward a kayak/canoe dock at Mill Yard Park, while the remaining $7,200 is paid by the city. As his contribution to the enrichment and development of the park, Dustin Winrich, owner of A& D Docks, donates the dock at cost and will install the launch free of charge for the next 10 years.
A veterans memorial slated to be built on the Lake Holcombe Lions Club property, now has a name – the Holcombe Area Veterans Memorial. Planning and fundraising for the memorial will be ongoing, as the group wants to make the monument the best it can be.
(Continued on Page 10) (Continued from Page 9)
A rabid bat is found in Cornell, after it attempts to attack a dog walked by its owner. The public is warned to be cautious and leave any bats on the ground alone.
The famous Oscar Mayer Wienermobile pays a visit to Cornell, where kids and adults stop to get their picture taken with the fully operational hot dog-shaped vehicle, and, of course, wienie whistles.
The Lake Holcombe boys basketball team receives a $1,000 donation for new varsity jerseys from the Lake Holcombe Lions Club. The donation allows the jerseys to be ordered and head coach Joy Webster hopes more funds will come in to pay for the remaining portion.
Cornell names Tyler Harycki and Bryanna Bonander as the 2019 Homecoming king and queen.
Kaden Kinney is named as Lake Holcombe's Homecoming king, while Kirsten Larson reigns as queen.
The Lake Holcombe PRIDE Committee presents $2,500 to the food pantry expansion, slated for construction at the Lake Holcombe Lions Club pavilion.
On request from ATV/UTV enthusiast Bill Kvapil, Cornell is opened on all streets (with several exceptions for safety reasons) for the vehicles' use.
Denny and Jeanne Boisvert give $10,000 to help along the Lake Holcombe Food Pantry expansion project. The Boisverts say they like to give to causes that benefit the community.
Deaths: William Karlen; Carol Schmitt; Harvey Peterson;
Barbara Gonsolin; Wilbur Beaton; Randy Goettl; Bridget
German; Ritchie German Jr.; Douglas German
October
Brant Bowe is named Homecoming king at Cadott, while Brooke Bremness is crowned as his queen. The week-long animal kingdom-themed festivities culminated with a parade, pep rally, home football game and a student dance.
A new sign is installed at the Mill Yard Park Cornell Little League field, in memory of former Little League player Craig Bauer. The funds for the sign came from proceeds from t-ball concession stands and Pepsi wagons.
Roger and Sandy Robarge donate $5,000 to help the Lake Holcombe Food Pantry reach its goal of expansion. The new food distribution center will be located at the Lake Holcombe Lions pavilion.
Cadott celebrates their 20-year State football championship, during halftime of the last regular season game. Players and coaches from the 1999 team, gathered for a photo on the field, as they were recognized for their accomplishment.
Tylor Wojciuch, 25, Cornell, is killed, after exiting his overturned car in a ditch in Holcombe, after hitting a light pole. Wojciuch encountered a downed power line, which killed him instantly.
After 20 years, the 1999 Cadott volleyball State runner-up team meets to relive memories of the trip to the Division 3 championship. Led by former coach Tricia Dresel, the players reminisced about the memorable year.
Births: Avalyn Reesen Deaths: Mary Ann Meyer; Shirley Vlach; Dorothy La-Barge; Judy Osborn; John Shakal; Tylor Wojciuch; Bernard Bennett; Yuriko Graham; Joni Strand; Mark Schoonover; Jean Pilgrim; Robert Lathrop; Daniel Eichelt November
For the second year, the Cornell Area Betterment Association (CABA) recognized those in the Cornell-Holcombe community who make an impact, with members voting on nominations from members of the community. Award recipients this year, were Hey Everything, New Venture of the Year; Mule-Hide Mfg., Business of the Year; Cornell Food Pantry, Civic Organization of the Year; Kathy Swanson, Volunteer of the Year; Kristine Hemenway, Community Leader of the Year; and Jenny Blaisdell, Legacy Award.
Two Cadott POWS from World War II, Bill Scheidler and Frank Nesvacil, are remembered by their families and the Cadott American Legion, with shadow boxes displaying the soldiers' uniforms and medals. Although the veterans have now passed away, their sacrifice and service to their county lives on, with the boxes stationed above the "missing man" table at the Legion hall.
Cadott senior Brady Spaeth signs a letter of intent, committing to wrestle for the University of Minnesota. Spaeth ended last season as a State champion and knew after a tour of the Minnesota facilities, that he wanted to become a Gopher in his college career.
The proposed Holcombe Area Veterans Memorial will find a new home, after veteran David Staudacher offers to donate a parcel of land on State Hwy. 27. The memorial was originally slated to be built at the Lake Holcombe Lions Club pavilion, but the memorial committee felt the monument would be more easily seen on Staudacher's land.
Deaths: Elizabeth Shafer; Edward Fitizpatrick; Warren Honadel Jr.; Scott Colbenson; Joni Strand; Beverly Peterson; Michael Hugh; Richard Herrick; Lois Kvapil; Donald Allard Jr.; Betty Bonn; David Glenz; Vernice Marion December
Almost two feet of snow falls in the area, after back-toback blizzards kick off the Thanksgiving weekend. Unfortunately for travelers, not only did the blowing, deep snow hamper their plans, but freezing rain was also thrown into the mix.
The Cadott Area Fire and Rescue Department raises $16,000 during a Spaghetti with Santa feed, for a LUCAS compression machine, which delivers automatic CPR to cardiac arrest patients. The money was raised through efforts from Cadott graduate and Chippewa Valley Technical College student Payton Freagon, after he saw a need on the department and had a requirement to organize a non-profit event as part of one of his classes.
At least 800 people receive a free meal at the annual Cornell Kids Community Christmas, with 370 free toys given out to children. In addition to visiting with Santa and Mrs. Claus, families could decorate cookies, make crafts and play games, while dancing to holiday music.
Cornell attempts to become an Ice Age Trail Community, agreeing to a memorandum of understanding. If approved, the city will receive help applying for grants and be mentioned in promotional materials, when the trail comes through Cornell.
Holcombe resident Mark Paus is selected through his trucking company to deliver wreaths to veterans graves, as part of Wreaths Across America. Paus, a veteran himself, was honored to be chosen and delivered more than 3,000 wreaths to four locations in Kansas, before placing a wreath on his own father's grave in Madison.
Births: Hezekiah Yeager Deaths: Jeanne Palmer; Richard Lujan Jr.; Robert Jackson; Norman Lanou; John Reeves; Constance Boeger; Karen Braden; Howard Greene
OORAHS from his fellow Marines, as a group met Nov. 15, to celebrate the 244th year since the United States Marine Corps was founded.
Photo by Ginna Young