Posted on
Lake Holcombe splits games for first defeat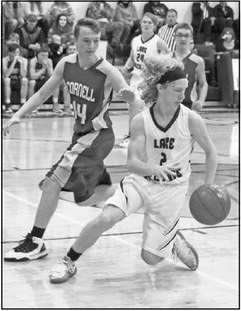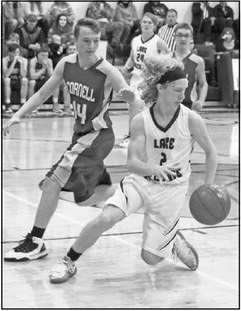 Lake Holcombe started off the week on a good note, earning a conference victory for the boys basketball program, but ended the week with the first defeat of the season against a tough opponent.
Dec. 10 vs. Bruce conference (W 65-42)
"I was very pleased with the intensity the boys played with tonight," said coach Joy Webster.
Webster had high praise for her team, after pulling off a road win against Bruce.
The Chieftains went into halftime up 39-21, and kept their focus, reeling in a 65-42 conference win.
"Brock Flater had a great all-around game, hitting five, threes, and 21 of his 23 points in the first half of the game," said Webster.
The junior also had 7 rebounds and 5 steals, while fellow junior Kaden Crank had a double-double, with 15 points and 11 rebounds.
"Kaden Kinney also played with great intensity, putting up a triple-double, including 10 assists, 12 rebounds and 11 points," said Webster.
Senior Josh Jones played a good defensive game, which included 7 steals and senior Jarred Jiskra was strong on the boards, pulling down 10 rebounds on the night. Jiskra also added 6 steals.
"I am anxious to see what these boys can accomplish this season," said Webster.
Dec. 13 vs. New Auburn conference (W 51-40)
It was back home for the Chieftains, hosting New Auburn, where Lake Holcombe jumped out to a 15-3 lead.
"…But we hit foul trouble early, which caused us to take off our full court pressure," said Webster. "Friday was a tough game all around. The ball just wouldn't fall tonight and everyone has nights like this."
Lake Holcombe was only down by two at halftime, but foul trouble again reared its ugly head. The Chieftains faced the loss of Kinney at the 10-minute mark, then saw Jones and Crank go down with five minutes left on the clock.
"My bench players hung in there and we took a 43-40 lead at the three-minute mark," said Webster. "We had a few balls down and back out, and they hit two quick threes and it was too much to recover."
New Auburn hung on for a 55-45 victory, handing Lake Holcombe the first loss of the season.
Crank finished the night with 19 points and 4 steals, while Jiskra followed with 6 points and 8 rebounds. Flater, Jones and sophomore Colton Minnick all had 5 points each, with Flater and Kinney each recording three steals.
"We had a learning curve early," said Webster, "but there is a lot of season left, and I am confident these boys will bounce back and continue to fight."