Posted on
Tridents end their season just shy of State meet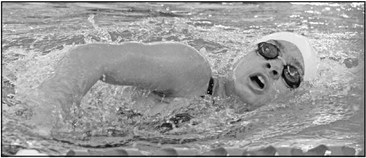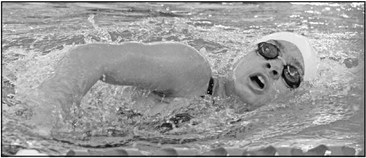 The Lake-Holcombe-Ladysmith-Flambeau-Bruce Trident Swim and Dive team competed at the WIAA Division 2 Sectional meet Nov. 8-9, hosted by Wisconsin Rapids Lincoln High School. The Tridents competed well with many large time drops and personal best swims, but it wasn't enough to advance to the State level.
The meet began Friday afternoon, with diver Kitara Fye competing in the diving session. Fye scored 230.8 over 11 dives, finishing ninth in a very competitive group.
"Kitara began this season with the goal of working on a full list of 11 dives and qualifying for the Sectional meet," said coach Matt Bunton. "In order to realize this goal, she attended camps this summer and worked consistently throughout the season, to learn complex dives and to dive with precision. To see her achieve this goal is really what it is all about."
The swimmers took to the pool Saturday afternoon. In the 200-yard medley relay, Madeline Bunton set a new team record, with a 29.08 opening backstroke leg. Brooke Lechleitner was in the pool next for the breaststroke leg, setting a personal best time of 33.68.
Following Lechleitner, Lacey Fuse clocked a very fast 26.08 butterfly leg, also a personal best time. Last in the pool, was senior Megan Lechleitner, with a season best time of 25.42.
The Tridents dropped over five seconds from their previous best time in this event. The 200-yard freestyle featured Madeline Bunton, Mya Baselt and Sadie Heath. Madeline Bunton dropped over seven seconds, to swim a 2:01.91, claiming fourth at the Sectional and 17th overall, missing a trip to the State meet by only 12 hundredths of a second.
The time also earned Madeline a second place in the "Trident Top 10." Baselt and Heath also swam excellent races, placing 17th and 24th, respectively.
In the 200-yard individual medley, Olivia Bunton and senior Kylee Millin each dropped several seconds, swimming personal best times. The 50-yard freestyle saw M. Lechleitner and B. Lechleitner back in the pool, along with their teammate, Fuse.
M. Lechleitner swam a season best 25.51 race to claim sixth place, while Brooke Lechleitner and Fuse both swam personal bests, as well, with times of 25.53 and 25.54, to claim eight and ninth place.
Fuse also competed in the 100-yard butterfly, dropping a couple seconds, swimming a personal best time of 1:01.88 and placing fourth. Fuse's fly earned her a second place in the "Trident Top 10" for the event, as well.
B. Lechleitner and M. Lechleitner competed in the 100yard freestyle, both earning season best times of 57.37 and 57.78, for ninth and 12th place, respectively. In the 500-yard freestyle, Madeline Bunton and Sanaa Trott competed, the former dropping 10.33, swimming a time of 5:31.48 to take third place, and claiming another second place in the "Trident Top 10" list.
Fellow freshman Trott also swam well, earning a time of 6:32.58 for 18th place. Next up, was the 4x50-yard freestyle relay, with the team of Madeline Bunton, B. Lechleitner, M. Lechleitner and Fuse returning back to the starting block.
The girls dropped over two seconds off their best time, with Fuse logging a very fast 24.97 leg.
"It was great to see Megan back in great form this afternoon," said Matt Bunton. "With rehabbing her ACL tear and only returning to competition several weeks ago, we weren't sure how this season was going to turn out. It was just this past week, that I saw her able to really explode on her starts and turns."
In the backstroke, O. Bunton dropped two seconds, swimming a time of 1:13.36, with teammate Trott dropping two and a half seconds in the event, swimming 1:13.92. In the last individual event, Baselt and Millin swam the breaststroke, with Baselt holding her three second time drop from the conference meet a week prior, with a time of 1:16.95 and earning 12th.
Millin dropped time as well, swimming a new personal best time of 1:24.93. The final event, the 4x100-yard freestyle relay, featured Heath, Michelle Gaddy, Baselt and O. Bunton, swimming a time of 4:15.93, with all four girls swimming season or personal best times.
"Overall, I am very pleased with how our team ended our season today," said Bunton. "Between our conference and Sectional meets, the girls had 80 percent personal best times."
In addition, Madeline Bunton and Fuse each earned qualifying times for the Wisconsin Short Course State Championship meet held in March.
"It would have been nice to see a couple of the girls and our medley relay qualify for the WIAA State meet this coming Friday," said Matt Bunton, "but with four Sectionals and only 16 girls in the state qualifying for each event, the competition for those spots is always going high."
Matt Bunton says the team missed out in several races by fractions of seconds, but that doesn't take away from the great time drops, many personal best swims and an overall great season.
"It's truly been an honor to coach this incredible group of student/athletes this year, and I could not be any prouder of these girls and this team."