Posted on
Our soldiers have never given up on us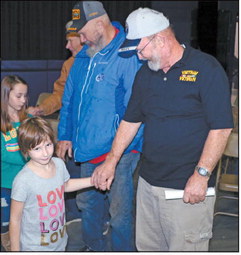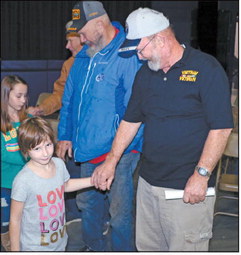 American Veterans, Department of Wisconsin, state junior vice commander (2015-16); Disabled American Veterans, Department of Wisconsin, associate VA voluntary service for the Minneapolis, Minn., VA Healthcare System (2004-present); Disabled American Veterans, Department of Wisconsin, VA voluntary service chairman (2015-present); and Disabled American Veterans, Department of Wisconsin, van driver (Chippewa Falls, to Minneapolis VA Healthcare System, 2006-present).
Through his time spent with the Disabled American Veterans, Shier has come to know two individuals, who, despite severe injuries, went on to help other veterans with support, becoming national department commanders for disabled veterans.
"Both, despite their injuries, loss of limbs, found ways to look at the good and not the bad," said Shier. "They continued to serve other veterans and may I add, with a cheerful attitude."
Shier also praised those who support veterans and keep the home fires burning, such as spouses and parents.
"No matter what branch you served, whatever your job path or how many years you served in the military, it was a brave and selfless act," said Shier.
Shier says those in the service are never sure where they will be assigned or when they will leave, if they will return home in one piece, or at all.
"Military men and women know the risks, but they accept them…so that others won't have to," said Shier.
With thousands of men and woman in harm's way protecting their country, Shier asked that people give support to the service members.
"Thank you for taking the time to remember our heroes," said Shier. "They never gave up on us. We can't give up on them."
It was the "war to end all wars," said Sgt. First Class Leonard "Lenny" Shier, speaking of World War I and the resulting Armistice Day. Armistice Day is commemorated every year, Nov. 11, to mark the armistice signed between the Allies of World War I and Germany, at Compiègne, France, for the cessation of hostilities on the Western Front of World War I.
The signing took effect at 11 a.m. – the 11th hour of the 11th day, of the 11th month, of 1918, "when the guns fell silent."
Now known as Veterans Day, the event was remembered throughout the nation this Nov. 11, including a service at Lake Holcombe School.
"In 1954, numerous veterans organizations urged Congress to change Armistice Day to Veterans Day," said Shier at the local ceremony. "Veterans Day is time when many of us show patriotism, flying our American flag. This is the time for us to pay respect to those who served, or are currently serving, in the United States Military service."
Shier, no stranger to service, graduated from the Caribbean School, Ponce, Puerto Rico, and enlisted in 1973. He was assigned to the 82nd Signal Battalion, 82nd Airborne Division, where he received an honorable discharge in 1980.
After five years, Shier re-enlisted in the Wisconsin Army National Guard, Company D, 724th Engineer Battalion, and in 1987, enlisted into the Active Guard Reserve as a full-time recruiting and retention non-commissioned officer. Eventually, he retired in 2002, with more than 21 years of time in the Armed Forces.
His service didn't end there, however, as he has been involved as the AMVETS Post 128, Rice Lake, commander (1990-present); Disabled American Veterans Chapter 52, Rice Lake adjutant/treasurer (2001-present); Disabled American Veterans, Department of Wisconsin, state commander (2017-18); Disabled American Veterans, Department of Wisconsin, state senior vice commander (2016-17); Disabled By Ginna Young
Photos by Ginna Young
TAPS,
for Lake Holcombe's Veterans Day ceremony. The melody followed a 21-gun salute, signaling the end of the program.
Ronnie Arts (front) and Chuck Seidlitz led the color guard at the annual Lake Holcombe School Veterans Day ceremony, Nov. 11. Veterans were invited to share about their time in the service, during the patriotic program.