Posted on
America is an imperfect nation, but a good one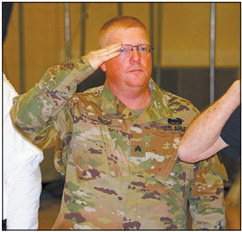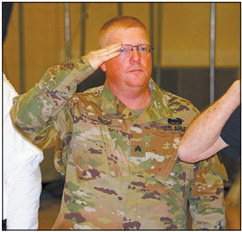 By Ginna Young
It was a familiar face for the students gathered at Cornell School District's Veterans Day ceremony Nov. 11, with Sgt. First Class Leonard "Lenny" Shier acting as the guest speaker. Shier, now retired from the military, serves as a substitute teacher for the district.
He enlisted in 1973, and was assigned to the 82nd Signal Battalion, 82nd Airborne Division. He later received an honorable discharge in 1980, but couldn't stay away from service. After five years, he re-enlisted in the Wisconsin Army National Guard, Company D, 724th Engineer Battalion, and then, in 1987, enlisted in the Active Guard Reserve as a full-time recruiting and retention non-commissioned officer.
Finally, he retired in 2002, with more than 21 years of time in the Armed Forces. During his career, he has received awards such as the Meritorious Service; Commendation; Army Achievement; Army Good Conduct; National Defense Service; Armed Forces Reserve; Noncommissioned Officers Professional Development Ribbon; Army Service; Army Reserve Components Overseas Training Ribbon; M16 Rifle Expert Qualification Badge; Parachutist Badge; Master Recruiter Badge; and Career Counselor Badge.
Perhaps his greatest award, has been to serve his country. Shier told those gathered that they live in a good nation – an imperfect nation – but a good one, nonetheless.
His service didn't stop once he retired, as he has become heavily involved with the Disabled American Veterans, spending much of his time volunteering toward efforts to improve the lives of disabled service people.
Somehow, Shier found additional time to attend Northcentral Technical College, Law Enforcement Academy, in Wausau, and earned a bachelor's of science, criminal justice administration, with specialization in management. He also attended Mount Senario College in Ladysmith, and UW-River Falls, with a specialization in Spanish education.
During his time in the Armed Forces, his military education included food service operations, jungle warfare training, signal support systems, alcohol and drug coordinator, nuclear, biological and nuclear NCO, safety organization and management, administrative specialist, recruiting and retention NCO, career counselor and three levels of noncommission officer training. Shier believes in service so strongly, that even though he was actually retired before the events of 9/11, when the Twin Towers in New York, fell, he was ready to defend his country once more.
"I told my wife…that I would go back in a heartbeat with the 82nd Airborne," he said.
In his career, Shier has dropped out of the sky (after attending the renowned Airborne Jump School) at 1 a.m., in pure blackness, something Shier likened to serving in the military.
"You drop, you fly, you go where the military sends you," he said. "It's the politicians that send us somewhere and we just have to do the orders, whether we like it, or not. And that's the life of the military."
National Anthem is performed.