Posted on
Tridents finish off regular season on a strong note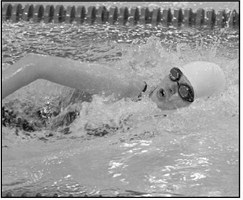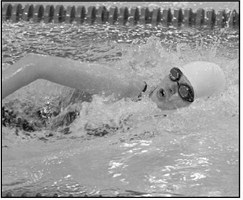 The Lake Holcombe-Ladysmith-Flambeau-Bruce Trident Swim and Dive team had a busy week, to close out their dual meet season.
Oct. 21 vs. Conference Invitational Dive
The action started as junior Kitara Fye competed at the Conference Invitational Dive Meet, where she competed in the 11-dive meet, finishing sixth in a field of 16 area divers. Fye went on to dive Tuesday and Thursday nights, placing first against Lakeland and Rice Lake.
"Kitara had a good week of competition, and has been steadily improving throughout this season," said coach Matt Bunton. "I know she's really looking forward to competing at the Sectional dive meet on Nov. 8."
Oct. 22 vs. Lakeland (W 88-82)
The Trident swimmers then hosted Lakeland Union High School. The Tridents took the lead early, with excellent swims in the 200-yard medley relay, 200-yard freestyle, 200-yard individual medley and the 50-yard freestyle.
"…We took first places in all of those events, but the real story, was the fight that took place to out-touch Lakeland for second, third, fourth and fifth place finishes, by the entire team," said Bunton. "In each event, there are 16 points up for grabs, so fighting for each place is critical to get a win against a tough team like Lakeland."
Lakeland came back fighting after the break, claiming wins in the 100-yard freestyle, 500-yard freestyle and 200 freestyle relay. But in the backstroke and breaststroke, the Tridents took back the lead and finished the meet, 88-82, claiming their sixth victory, closing out their conference season, with a 6-2 record.
"This was really a whole team effort tonight," said Bunton. "I saw a lot of good swims and great fight out of our girls. This was a big win for this team and I couldn't be any prouder of their effort."
Oct. 24 vs. Rice Lake (L 100-76)
The Tridents were back at home, this time hosting their non-conference neighbors, Rice Lake. Although the Tridents posted many good times, Rice Lake was a little too strong and claimed a 100-76 win.
"Even though we always prefer to get the win, many of our girls had season best swims tonight," said Bunton.
Several of the Tridents' first year swimmers posted big time drops, including freshman Macy Kennedy, with a five second drop in the backstroke leg of the medley relay and a two second drop in the 100 freestyle. Freshman Caitlyn Kolter had a four second time drop in the 50 freestyle, then went on to drop another seven seconds in her 100 freestyle time.
Junior Jade Hengst dropped 30 seconds in her 200 freestyle and 28 seconds in her leg of the 100 free relay. Freshman Izzy Mitchell and junior Lizzy Nelson each took five seconds off of their 100 breaststroke times.
"These girls have been working hard all season, on both their technique and fitness, and it's really fun to see that effort start to really pay off," said Bunton. "They have all come a long way since the first day of the season, back in early August."
The Tridents now look ahead to the Great Northern Conference swim meet Nov. 1, in Medford, then the Division 2 Sectional meet Nov. 9, at UW-Stevens Point.