Posted on
Cadott bashes Bulldogs in regular season finale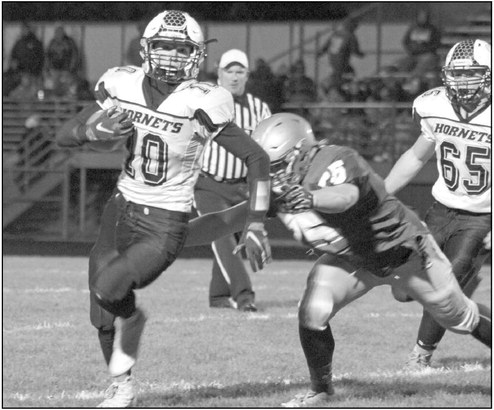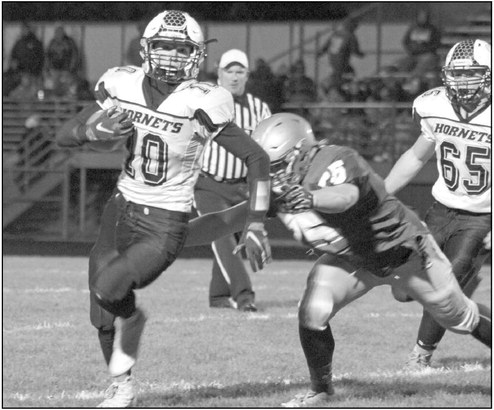 By Ross Pattermann
A huge first quarter was all the Cadott Hornets Football squad needed to put away the Boyceville Bulldogs at home Oct. 18.
The Hornets did not make the postseason this year, but in their final game of the season, Cadott put on an offensive masterclass for all their fans to see, racing out to a quick lead in the first quarter, that culminated in a 52-14 non-conference victory. That closes out their season, with a 4-5 overall record and 3-5 mark in the Cloverbelt Conference.
Cadott racked up 375 yards on the ground, and over 400 yards of offense and seven touchdowns, as Nelson Wahl and Brady Spaeth acted as the one-two punch, as each player finished with over 100 yards on the ground. Spaeth accounted for three of those scores, pounding his way past the Bulldogs for 207 yards – one of the biggest rushing performances in the state that night. Wahl added 109 yards on eight carries and a touchdown. Josh Briggs found the endzone twice, Ethan Tegels added another rushing touchdown, and Mason Poehls found Tegan Ritter through the air for another score. The Hornets were methodical with their offense, essentially putting the game away in the first quarter, with a 27-0 start.
From there, it was almost all Cadott, as the Hornets scored twice in the second and third quarters. The Bulldogs got on the board once in the second quarter and again in the fourth, but it was not nearly enough to challenge the Hornets' lead. The Hornets' defense held Boyceville to under 140 yards of offense, with Briggs and Brad Irwin each picking up a sack.
Poehls went three for seven on his passes, finishing with 32 yards and one score. Briggs added 38 yards, on six carries. Spaeth had one reception for 16 yards and Ritter had two receptions for 27 yards.
The game also represented the Hornets' last time as a member of the Cloverbelt Conference, with Cadott to join Boyceville in the Dunn-St. Croix Conference next year, as part of the WIAA and Wisconsin Football Coaches Association's statewide conference re-alignment plan.
In his final year in a Hornets' uniform, Spaeth finished as the leading rusher in the conference regular season, picking up 1,229 rushing yards and finishing with over a dozen touchdowns. Wahl added another 624 yards on the ground and will be a key for next year's offense, as the Hornets honored their seniors, bidding goodbye to the Class of 2019.