Posted on
Send Athens news to: RR@tpprinting.com ….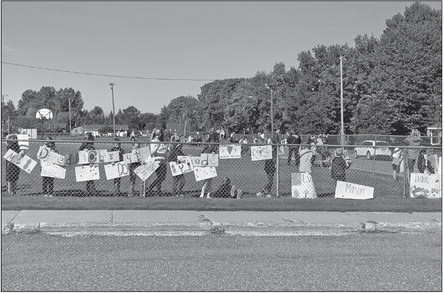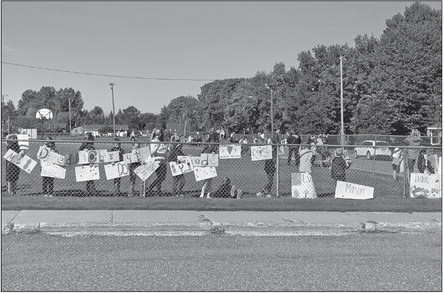 Send Athens news to: RR@tpprinting.com phone: 715-223-2342 fax: 715-223-3505 P.O. Box 677 103 West Spruce Street Abbotsford, WI 54405 Bank is not open
The US Bank branch in Athens, located at 203 Alfred St., is temporarily closed, with no reason why provided on the company's website.
US Bank's Wausau Main Branch and ATM, located at 401 5th St., is also temporarily closed. U.S. Bank's Wausau Stewart Avenue and Weston Branches and ATM's are currently only available for driveup service.
Correction
Anyone who wore a free Thrivent Financial t-shirt at the police meet and greet on Sept. 11 at Memorial Park in Athens received a free cupcake.
Thrivent Financial didn't sell t-shirts to people, like it read in last week's Sept. 23, 2020, cutline under the picture of the police meet and greet event. Attendees had the option of donating money to the Athens Police Department.
Scholarship winner
Paula Lira of Athens was awarded the Diversity Incentive New Student Award from UW-Eau Claire for incoming freshman students.
Church events off
The Trinity Lutheran Church in Athens' craft sale and pancake supper, which are normally held in November, are cancelled this year.
Grab & Go crafts
Children can make a colorful, festive fall decoration for a door or window by picking up a Grab & Go kit from the Marathon County Public Library's Athens Branch, located at 221 Caroline St., from this Monday, Oct. 5 thru Friday, Oct. 9.
The free kit, which is limited to one per child, will contain everything needed to make a collage fall wreath.
Parents can make an appointment for a visit to the Athens library or for curbside pickup to retrieve a kit. For more information, parents can call the Athens library at 715-257-7292.
Harvest Brunch
The Berlin-Hamburg Lions will hold its annual Harvest Brunch from 10 a.m. until 2 p.m. on Sunday, Oct. 18, at River Rib Ballroom, located at 3237 STH 29 in rural Marathon.
There is a fee to eat but children ages five and older are free. The brunch menu consists of potato and buttermilk pancakes, maple syrup, applesauce, cheese, eggs, sausages, milk and coffee and a cash bar.
Proceeds from the Berlin-Hamburg Lions Harvest Brunch will go back to the community.
Senior Citizens
The Senior Citizens card group met on Sept. 24 for weekly card playing at the Athens Area Fire and Ambulance Hall.
Two games of Sheepshead were played. Andy Hoeft won the first game and Steve Klockziem took second place. Norbert Lake won the second game and Ceil Frank placed second. Bernice Passehl received low score.
The Senior Citizens card group will play cards again at 1 p.m. this Thursday, Oct. 1 at the Athens Area Fire and Ambulance Hall.
Fundraiser canceled
The Friends of Christian Education committee has decided to cancel the fundraising banquet this fall, due to the every-changing circumstances and gathering restrictions surrounding the coronavirus.
The annual banquet raises money for St. Anthony Catholic and Trinity Lutheran schools in Athens. The Friends of Christian Education committee looks forward to having the banquet again in October of 2021.