Posted on
Health departments sponsor COVID-19 tests in Abby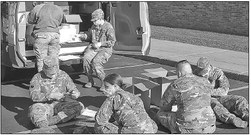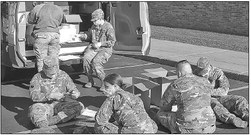 A total of 266 people were tested for COVID-19 at a drive-through testing event held last Friday in at Abbotsford High School's parking lot, but the number of positive results is still being determined.
"We do not have all of the test results yet and will release the numbers of negatives and positives when they are all in," said Judy Burrows, public information for the Marathon County Health Department in an email on Monday.
Twenty-seven National Guard members from around the state, along with four public health officers and an interpreter, helped administer the tests.
Burrows said 57 percent of those tested were from Clark County, 32 percent were from Marathon County, 8 percent were from Taylor County and 1 percent each from Lincoln and Wood (with 1 percent listed as "other").
Half of those who showed up to be tested spoke Spanish as their primary language, according to a press release from the county health department.
Two days before the testing event, the Clark and Marathon county health departments jointly announced that three employees at Abbyland Foods in Abbotsford had tested positive for COVID- 19.
Burrows said the timing of the testing event was "serendipitous," as it had already been planned before the Abbyland cases were reported.
In a joint press release with the health departments, Abbyland's safety director, Todd Jelinski, said the company is "committed to providing a safe work environment for all employees."