Posted on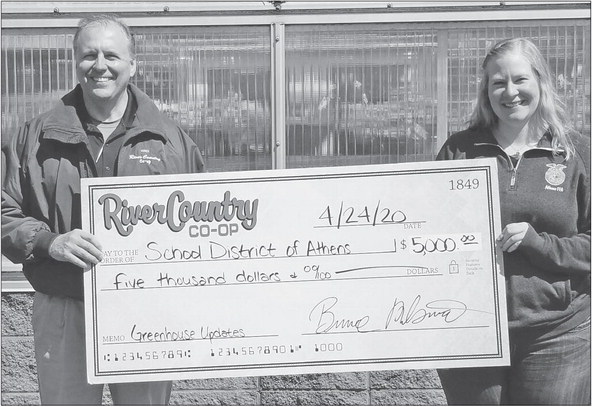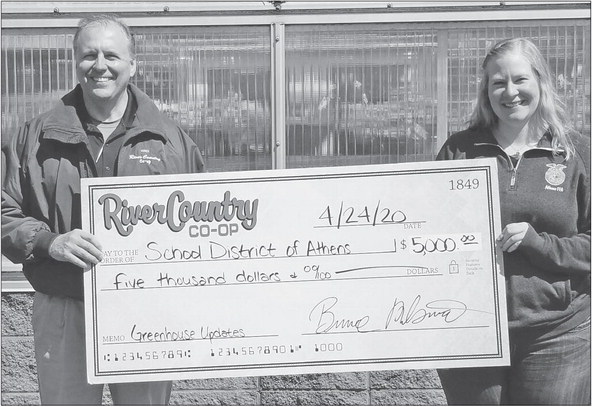 Send Athens news to: [email protected] phone: 715-223-2342 fax: 715-223-3505 P.O. Box 677 103 West Spruce Street Abbotsford, WI 54405 Birth
A daughter, Emri Rose, was born on March 19 at St. Claire's Hospital in Weston.
She weighed seven pounds, eight ounces and was 19-1/2 inches long.
The baby's parents are Nick and Maddie Belter of Athens. She joins two sisters, Emma, 5, and Ellie 4.
Grandparents are Al and Becky Belter of Athens, Kim and Brian Pehlke of Tomahawk, Perry and Roseann Stargardt of Marshfield and Sharon and David Scott of Fifi eld.
Great-grandparents are Dave and Sue Belter and Dale and Rosie Barkow of Athens, Frank and Elaine Ulrich of Ogema, and Floyd and Hazel Stargardt of Marshfield.
No Cancer Walk
Trinity Lutheran Church in Athens Crusaders for Christ Youth Group will not be hosting its annual Cancer Walk this summer. The event will return in the summer of 2021.
Over the past 14 years, Crusaders for Christ with the help of Athens area residents has raised more than $24,000 for the Aspirus Regional Cancer Center in Wausau.
Aspirus clinic closed
Aspirus is temporarily closing its Athens clinic in order to support the needs for additional staffing and resources at its hospitals in the event of a surge in COVID-19 patients.
Some physicians, advanced practice clinicians, nurses and other staff from these locations will be re-deployed to other Aspirus clinic locations. Others will support needs at the various Aspirus hospitals through- out the region.
If you think you've been exposed to COVID-19 or are experiencing a fever, cough, or shortness of breath, you are encouraged to call the Aspirus COVID-19 Hotline at 1-844-568- 0701.
Trash pick-up
In response to the COVID-19 pandemic, effective immediately, Advanced Disposal will not collect any trash/refuse or recycling that is not properly placed in a container.
All trash/refuse must be bagged and placed in containers that do not exceed 32 gallons or weigh more than 50 pounds.
Recycling must be placed loose in a container or receptacle clearly labeled "recycling." All bulky item pick-up/collection is suspended until further notice.
St. Anthony's closed
The St. Anthony's Catholic church has cancelled all of its masses as of March 20 until further notice. This also includes masses held at St. Thomas Catholic Church.
Village hall closed
The Athens municipal building clerk's office and police department have been closed until further notice.
To contact the police department for non-emergency issues, call 715-257-7611. To contact the clerk's office, call 715-257-9170, or e-mail to [email protected] villageofathens. com.