Posted on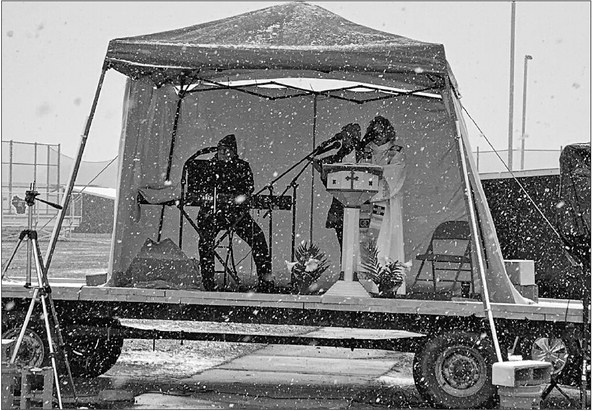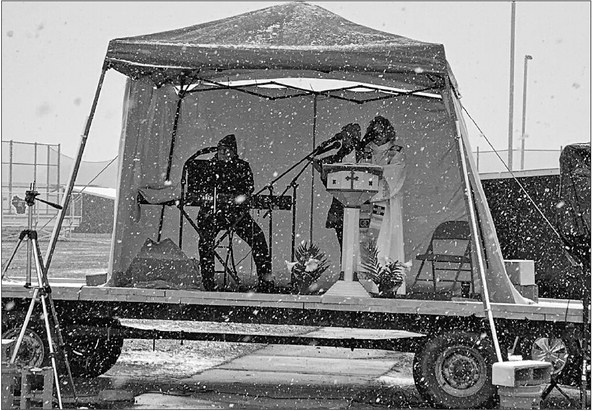 Send Athens news to: [email protected] phone: 715-223-2342 fax: 715-223-3505 P.O. Box 677 103 West Spruce Street Abbotsford, WI 54405 Teamwork on Easter
Pastor Mark Schwalenberg of Trinity Lutheran Church in Athens was the mastermind behind setting up a temporary stage in the Athens High School parking lot for five Athens churches to hold Easter church services for people watching and listening from their parked vehicles.
"It became increasingly obvious to me our battle against the COVID virus was going to seriously affect our ability to not only observe the season of Lent, but also Holy Week and Easter," Schwalenberg said. "Since the celebration of the resurrection of Jesus from the dead is one of the most significant observances in the Christians calendar, I knew that we (the members of Trinity Lutheran Church in Athens) would need a special blessing from God if we were going to observe Easter."
He's been the pastor of Trinity Luthern Church in Athens for almost five years (installed in July 2015). Previously, he was a pastor in Iowa for 24 years. He attended and graduated from Concordia Seminary in St. Louis with a Masters in Divinity degree in 1991. Prior to that he was an electrical engineer for 10 years (1978 graduate of the Milwaukee School of Engineering).
For five years in Iowa he had programmed and run an animated Christmas light display he installed on and around his former church in Polk City, Iowa. Part of the display hardware was a small FM transmitter that would broadcast the music of the light show to the car radios of those who came to see the display.
"It occurred to me I could connect the same FM transmitter ("Whole House 3.0 Transmitter) to the sound system at Trinity Lutheran Church in Athens so while I was conducting streaming worship services at www.facebook.com/ trinityathenswi, I could also broadcast the audio to cars that would be parked on the streets around our church and in our church parking lot," Schwalenberg said.
While this was all going on, he was in regular contact with the denominations District President Dr. Dwayne Lueck, President, North Wisconsin District of the Lutheran Church-Missouri Synod) about his efforts and that he would be willing to consult with other churches who were interested in taking advantage of this technology. He did directly consult with two other LCMS congregations on what he was doing with parking lot church.
"With all this in mind, I felt we could give all the members of our church the opportunity to celebrate Easter while maintaining the governor's social distancing guidelines," said Schwalenberg. "To help assure compliance, I developed a set of guidelines to help assure everyone's health and well-being in attending parking lot church. Because of the growing concern for the spread of the virus, we decided not to celebrate Holy Communion as a part of parking lot worship."
His next step was to approach Athens High School and ask the administration for its permission to use the parking lot for both Good Friday and Easter. As he was preparing to present his proposal, it occurred to him if they would allow it, this would be a blessing to all the churches of Athens if he made the set-up for parking lot worship available to each of them. After all, he knew all churches were under the same restrictions.
"After a few days, I joyfully received the news from the Athens administrator our request would be allowed," Schwalenberg said. "I immediately contacted the pastors of the other three churches in Athens: Father Graham at St. Anthony Catholic Church, Pastor Craig Diedrich at Assembly of God and Pastor Teri Hanson of Christ United Church in Athens and Colby. I presented my idea and they received it enthusiastically.
"After further discussion, The Christ Church asked for Good Friday worship at 2 p.m. We, the Lutherans, chose 6 p.m. The Catholic and Assembly of God churches chose not to participate on Good Friday. For Easter, we agreed on the following schedule: Catholic at 7 a.m., Lutheran at 8 a.m., Assembly of God at 10 a.m. and Christ United Church of Athens and Colby at 11 a.m."
During this time he was also in regular communication with the Athens Police Department to make sure it was on board with our plans. Chief Aaron Stencil provided him with great support and encouragement for the project and he sent Schwalenberg regular updates on any related discussion that came across his desk.
"The whole thing almost came to grinding halt when I got an excerpt of a document Chief Stencil received from the Wisconsin Police Chiefs Association that stated that parking lot worship services were not allowed," he said. "The document referenced rules from the governor's offi ce, but after extensive research, we could not find that document anywhere on the Internet.
"Shortly after that, in an online meeting with our district president and other pastors in our church district, we gladly received news of an opinion released by the Wisconsin Legislative Council that did allow for religious organizations to hold parking lot worship services. Hallelujah!"
Schwalenberg was able to secure the use of a hay rackfrom Gary and Maureen Belanger who are members of Trinity. He parked the hay rack in the Athens High School parking lot, added a sound system, the FM transmitter, a keyboard, a pop-up tent with sides to protect from the wind and theywere ready to go.
Trinity Lutheran and the Christ United Church successfully held Good Friday worship.
"Easter morning was a much greater challenge with the cold wind and eventual snow," he said. "By God's grace each of the churches in Athens was able to celebrate the resurrection of Jesus. A lot of Athens church members went home feeling a little better during this difficult time having had the opportunity to worship with their fellow parishioners on Easter morning."
Aspirus clinic closed
Aspirus is temporarily closing its Athens clinic in order to support the needs for additional staffing and resources at its hospitals in the event of a surge in COVID-19 patients.
Some physicians, advanced practice clinicians, nurses and other staff from these locations will be re-deployed to other Aspirus clinic locations. Others will support needs at the various Aspirus hospitals throughout the region.