Posted on
Improved Athens report card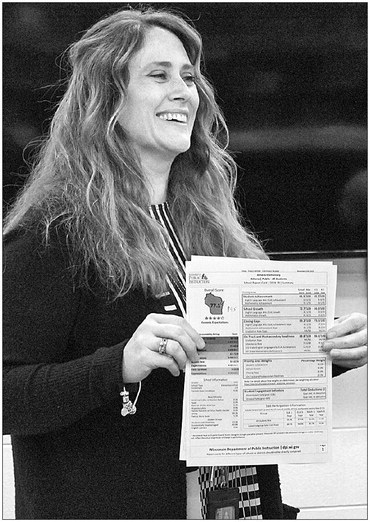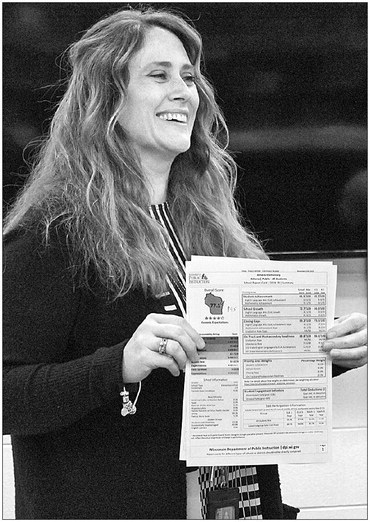 Wisconsin DPI says elementary school exceeds expectations
Athens School District administrators are excited the school district's report card has improved to "exceeds expectations" in 2018-19.
Joy Redmann, Athens Elementary School principal, told the Athens Board of Education on Monday the school district's overall report card score increased 5.2 points to 73.4 in the 2018-19 school year, compared to 68.2 in the 2017-18 school year.
"I'm proud of our school district's overall score but this is only one measurement of how our students are doing," Redmann said. "We can celebrate our good test scores but we still have a long ways to go yet. Each student has a different goal it needs to reach."
Athens School District's report card score improved although its achievement score dipped slightly, from 58.7 points in 2017-18 to 55.5 points in 201819 out of a maximum score of 100.
Athens Elementary School improved its overall score on the report card 9.5 points, from 67.6 in 2017-18 to 77.1 in 2018-19. The elementary school's student achievement on the Forward Exam decreased from 67.6 points in 2017-18 to 61.1 points in 2018-19. The school's growth increased from 59 points in 2017-18 to 72.7 in 2018-19.
Athens middle and high schools' scores on their report cards meet expectations. The high school's overall report card score increased 9.4 points from 60.5 in 2017-18 to 69.9 in 2018-19. The middle school's overall report card score only increased 3.4 points from 69.2 in 2017-18 to 72.6 in 2018-19.
In other school news:
_ The school board tabled a decision on renewing a 15-year lease agreement with the village of Athens, in which the village had been paying the school district $100 each year to have an easement onto the school district's land to access two wells.
The school board's buildings and grounds committee will now discuss negotiating a larger amount of payment each year from the village for the easement. School board president Tim Krueger said he thought the school district paid the village money to maintain the west portion of Schlegel Street the school district owns in front of Athens Elementary School.
Village of Athens clerk Lisa Czech said Tuesday the village doesn't receive any money from the school district to maintain Schlegel Street, but school board members might be referencing the money the school district has spent to repair the bad road conditions on its western portion of Schlegel Street where the school buses load and unload students each day.
_ School board members voted to allow logger Pat Schreiner, Athens, to thin out the forest the school district owns near the middle/high school and allow the newer trees to grow to have a healthier forest.
Jeff Mastin, Athens district superintendent, said he's hoping in the future the school district could use the money to construct an outdoor learning classroom and 10 workout stations in the forest. Mastin said teachers Jessica Bingham, Jessica Stuttgen and Korey Rottscheit have taken the lead on planning for the outdoor classroom.
Mastin said the Athens Area Trails Association (AATA) wants to create a walking trail in the school forest, so in the future it can achieve its goal of linking up all the trails to make one big circle around the village of Athens.
_ Bev Braun, Athens School District administrative assistant, is the deputy clerk for this April's school board election. School board president Tim Krueger, vice president Steve Janke and clerk Jessica Frahm are up for reelection this spring. Braun said school board members who are not running for re-election need to file their paperwork by Dec. 27. School board members seeking re-election need to file their papers by 5 p.m. on Jan. 7 in the school district administrative office.
_ Dan Nowak, Athens middle/high school counselor, told the school board during Monday's meeting he is exploring the creation of alternative credits high school students could earn to help them graduate.