Posted on
Lake Holcombe going in the right direction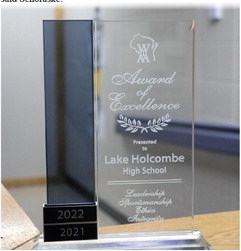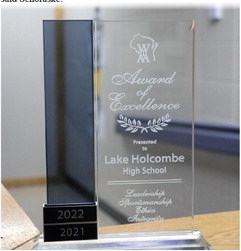 By Ginna Young
Sportsmanship is important to Lake Holcombe School and it's something that's recognized, not just by visitors to the athletic competition and referees, but by the Wisconsin Interscholastic Athletic Association (WIAA). For the second time in the school district's history, Lake Holcombe received the WIAA Award of Excellence, for the 2021-22 school year.
"It means that, together, we are moving things in a promising direction, regarding academics, leadership and sportsmanship," said Lake Holcombe athletic director Todd Senoraske. "Our coaches are talented and they care. They buy into the initiatives and develop great ideas for their teams. It doesn't mean we don't make mistakes along the way, but we do like to learn and grow from them."
Along with 38 other teams in the state (most of whom are large districts), Lake Holcombe qualified for the award, based on WIAA criteria, which includes the athletic director maintaining and updating information in an annual directory. Three or more athletic teams must also give back to their school, or community, through volunteerism.
"First and foremost, I would like to thank the students and parents that buy into representing Lake Holcombe in a positive manner," said Senoraske. "It makes attending athletic events much more enjoyable."
Going forward, to keep up the level of sportsmanship at Lake Holcombe, Senoraske says it helps to reflect on what they do. That involves asking, are we doing things that are good for our school, community and ourselves? Are the things that we do valuable, time worthy and progressive?
Senorake says it's a great feeling, when officials, opposing teams or visiting fans leave Lake Holcombe, and say, wow, Lake Holcombe treats people right – they sure are competitive, but they are a class act.
"I think that's a sign that any school is in a good spot," said Senoraske.