Posted on
Cadott Village Board; TID No. 5 boundary expansion postponed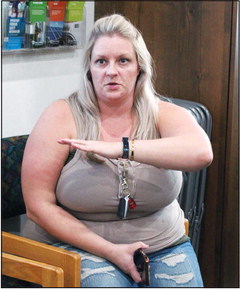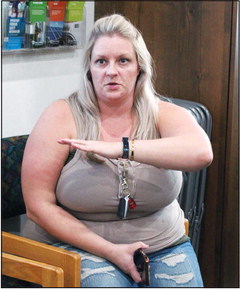 Lucy Meinen, Cadott Community Association (CCA) member, asked Cadott Village Board members their thoughts on projects the CCA would like to do at Riverview Park, during a Sept. 19 meeting. The group would like to add mulch around the playground, update the small electrical boxes around the park and add a gravel driveway near the storage shed, to make moving items in and out easier. The department of public works will work with pricing and estimates, and bring it to the next village board meeting. Photo by Julia Wolf
By Julia Wolf
Board members decided to table any action on a resolution that would amend the boundaries of Tax Incremental District No. 5, during a regular meeting Sept. 19. The decision to table the action came after the Planning and Development Committee decided earlier in the evening, to increase the expansion to include more area.
"We have to update the maps and project plans, so we have a final plan, before we can take action on it," said Josh Miller, Cedar Corp.
Since that information was not available at the time of the meeting, the village board will hold a special meeting Monday, Sept. 26, at 6:30 p.m., to consider the resolution and project plan.
The board was able to give the go-ahead to move forward with pursuing an electronic payment option for customers' water, sewer and electric bills. Clerk/treasurer Sandy Buetow explained there are various options out there, but thought staying with their software package, Civic Systems, would make troubleshooting easier.
"We have a lot of people who want to do electronic," said Buetow.
Health insurance modifications were also approved, after they learned there is a long coverage gap for new village hires.
"You're asking our people who work for us, not to get injured or hurt, or if you do, your own insurance pays for you, for up to three months," said Anson Albarado, board president.
Albarado says they can make adjustments to allow the new hires to get coverage sooner, without effecting the health premiums.
"That would be kind of a good selling point for employees," said Albarado.
Board members also took a moment to recognize Jessica Ryba for her hard work getting the Cadott Farmers Market started and keeping the successful event going each week over the summer, as well as any others who help put on the market.
"That's been great," said Bart Chapek, board member. "I was impressed."
In other good news, the village learned they are under the limit for PFAs in all laboratory reports.
"Everything showed good," said Buetow. Public works director Jeremy Kenealy also reported that Well No. 3 will need DNR required maintenance next year. Buetow says they will try to include the costs of the maintenance in the water budget.
The retirement of Buetow was also approved, effective Wednesday, Feb. 8, 2023.
I'm excited for this new chapter, but it is also a little scary, too, wrote Buetow in her resignation letter.
Board members agreed they would miss Buetow. Les Liptak, board member, says he appreciates the significant leadin time, so they can find and train a replacement.
Following a closed session, board members voted to advertise for the clerk position.