Posted on
Legacy stones coming soon for veterans memorial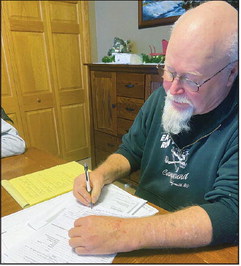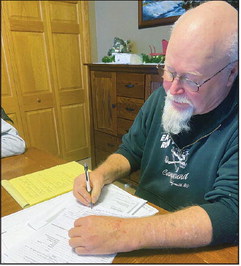 Holcombe Area Veterans Memorial Planning Committee chairperson Jim Mataczynski officially signed the contract with Stone Services, Chippewa Falls, to be the memorial's vendor for legacy stones, as heard during a planning committee meeting Jan. 20. The first order will be placed in the next week, or so, after each engraving is confirmed with the purchasers. Submitted photo
By Julia Wolf
Those who purchased legacy stones for the Holcombe Area Veterans Memorial can expect to see correspondence to confirm everything is correct in the near future.
"We signed the contract for Stone Services," said Rhonda Mataczynski, Veterans Memorial Planning Committee member.
Last month, the committee voted to move forward with the purchase of the legacy stones through Stone Services, Chippewa Falls, starting out with 27 engraved stones and 58 blank stones. During a meeting Jan. 20, members heard the purchase was made official with the contract signing.
Jim Mataczynski, committee chairperson, says the stones will be ordered this week.
Those who already purchased a stone will receive correspondence letting them know the stone is going to be produced and asking them to double-check everything to be engraved on the stone is correct. R. Mataczynski says all the company is waiting for, is the information, so they can start engraving the stones.
"There will be 58 blank ones, for future purchase," said R. Mataczynski, reminding those interested that legacy stones are still available to order.
The memorial is also continuing to accept donations, to bring the project vision to life and is also looking into requirements for various grants.
R. Mataczynski says the group would like to start working on project realization this spring.
"Construction is going to start this year," said J. Mataczynski.
He says his goal for the site is to get the flag poles up this year, since the dirt and fill is already there.
"A more ambitious goal is to have the concrete work done," said J. Mataczynski. The planning committee also discussed upcoming events and started forming a calendar. R. Mataczynski says they already have something at least once a month in the works.
"We're working at being in attendance at parades," said R. Mataczynski.
The group is also planning a number of fundraisers, including a golf tournament, a motorcycle ride and an October fundraiser event.