Posted on
Cornell School Board; Fab lab looking into grant for CNC machine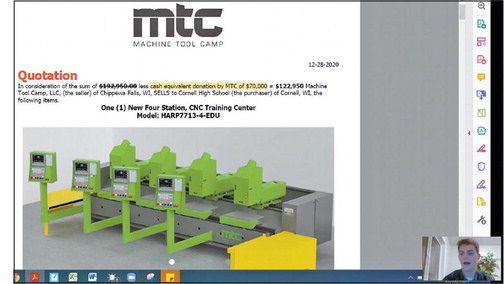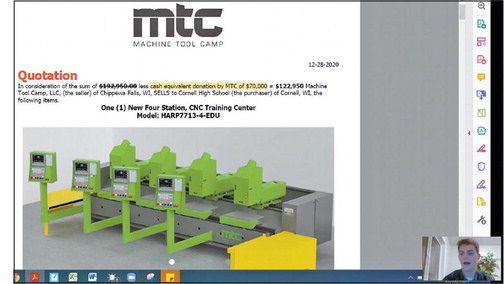 By Ginna Young
To keep up with ever-changing technology and get students career ready out of high school, the Cornell School District is looking into grants to expand their current fab lab. Austin Hiess, speech language pathologist, spoke about what that will entail, during a regular Cornell School Board meeting Dec. 28.
Hiess has been charged with writing a grant to expand the fab lab facility and adding a wood CNC control machine, which is used at a fast pace for high precision designs.
"A lot of the businesses and high tech industries are using these for many different things," said Hiess.
With the machine, the district would focus their curriculum on design, so the process of the curriculum can be carried out.
"And we think that this will be beneficial in educating and training students in the (manufacturing) industries," said Hiess.
The district plans to partner with Machine Tool Camp, LLC (MTC), out of Chippewa Falls, who makes the CNC machines and distributes them across North America. After district staff toured the Chippewa Falls business, the company showed motivation and passion to work with the district.
The designated model Cornell is looking at, would have four students working at one time. To help make the fab lab wish a reality, MTC is willing to donate $70,000 off the price tag, making the district's cost $122,000 – which would be offset if the grant is awarded.
"This really is a unique opportunity that might be a onetime chance for us, as a school district in the area," said Hiess.
Hiess also mentioned that such machines are used at area businesses, including Larson's Cabinets located in Cornell, with whom the district already partners. The expansion would allow Cornell to teach students about the science of the process and how to enter codes to run the equipment.
"In addition, this machine is extremely safe," said Hiess.
Currently, Cornell has a metal CNC, in partnership with CVTC, as well as a laser engraver and 3-D printer. Students have already mastered working with saws and lathes in the district's fab lab.
"Now, we want to take them to the next level," said middle/ high school principal Dave Elliott.
Hiess says the machine could provide even greater collaboration between local businesses. Through the application, he hopes to receive a Department of Workforce Development grant and one from the Wisconsin Economic Development Corporation.
"Depending on the funds we're able to get, the cost of the machine can be significantly reduced, as well," said Hiess.
Elliott says his vision is to work with local businesses and be able to sell products, since the school currently has a small store filled with shirts and face masks.
"Many of the school districts who have machines like this, sell products," said Elliott. "That would be another way to gain some of the money back and teach our kids business acumen. But, we have to be ready for that."
If the grant is received, the machine addition may be ready by this time next year, but, as superintendent Paul Schley pointed out, the district still has to apply for the grants and have the machine built. Staff then has to go through training and install the equipment, before students can use the addition to the fab lab.
"It's a ways out," said Schley. "This will be a long process."
The board agreed the addition would be a great opportunity and approved a resolution, giving their backing if the grant is received.
Members also approved Craig Braaten as the high school football coach; and Hiess as a middle school girls basketball assistant coach.
Schley reported that Cornell will be part of a football conference that will be built in for eight-man play in 2022, going up against Lake Holcombe, Bruce, McDonell, New Auburn and Prairie Farm. For this year's season (2021), Cornell will be part of an eight-man league, consisting of an independent schedule with Almond-Bancroft, Athens, Thorp, Owen-Withee and Lake Holcombe.
"So, we're moving forward with eight-man football," said Schley.
Schley also informed the board that at 6.74, with taxes based on assessed property value, Cornell's mill rate is quite good.
"In our CESA 10, we do have the lowest mill rate, even though our taxes went up this year," he said.
Elliott also mentioned that they had pulled a lot of kids back into the classroom from online, who weren't "taking care of business." He said the district is continuing to work with the county health department, to make sure students can be in the school safely, as everyone seems to agree it's better for students to have in-person instruction.
"They learn better when they're here."