Posted on
Porter lends voice virtually to State Honors Mixed Choir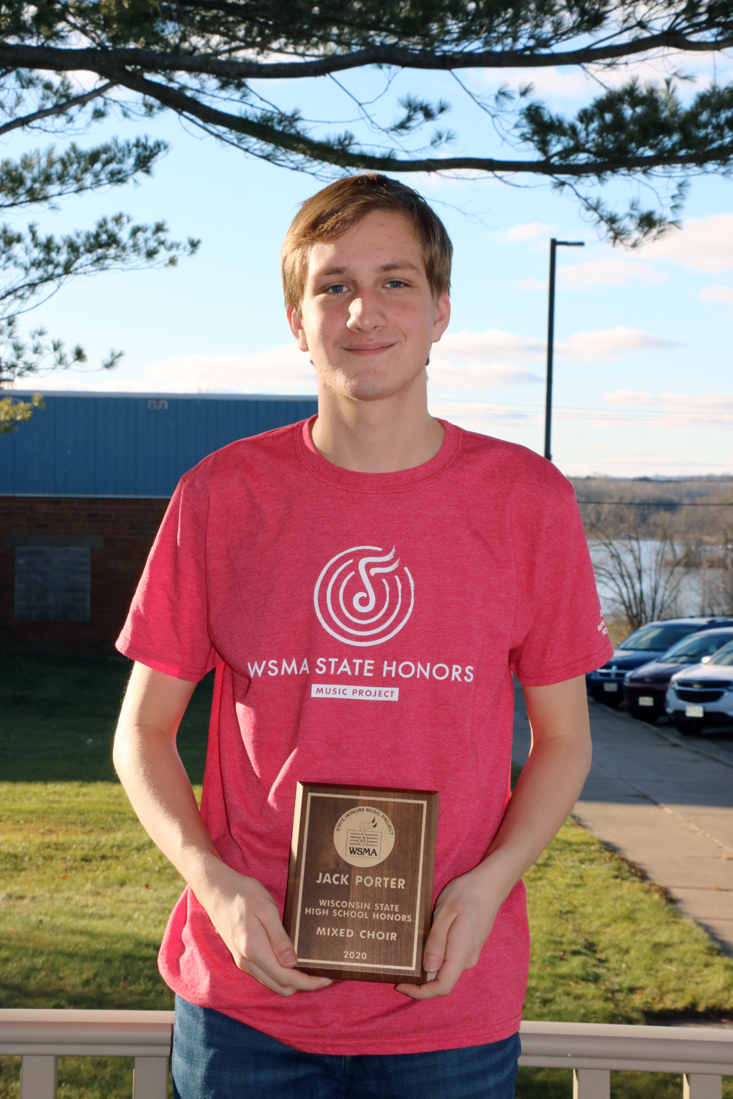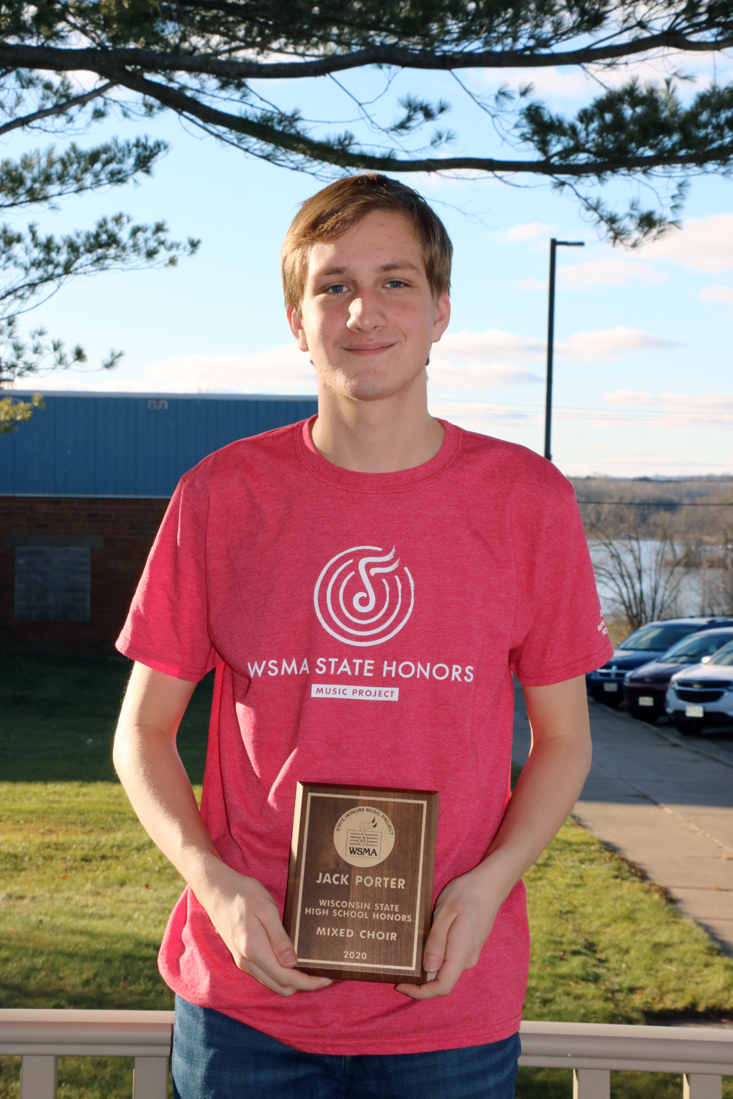 By Ginna Young
Jack Porter was one of many kids who formed a heart at the end of We Can Mend the Sky, which touched director Dr. Lauren Fowler-Calisto's heart.
Jack Porter, Lake Holcombe senior, received a plaque from the Wisconsin School Music Association (WSMA), after he was selected to the Wisconsin State Honors Mixed Choir. The selections were performed virtually this year, with kids from around the state taking part.
Music has been one of the things most affected during the COVID-19 pandemic, but it was important to the Wisconsin School Music Association (WSMA) to still hold their Wisconsin State Honors Mixed Choir – just in a virtual setting.
As one of very few in this area, Lake Holcombe senior Jack Porter was one of those chosen to perform. Porter was part of the middle school honors choir prior to this, but had not been selected since.
Students in grades nine though 11, from WSMA-member schools, are eligible to audition for the High School State Honors Music Project.
This time around, Porter auditioned as a junior for the choir and qualified to attend the 2020 performance. Normally, those chosen would go to a camp in the summer, working on the pieces they would perform.
Then, in October, the students would gather for a live performance, which is typically broadcast in November. The current health crisis changed that and students had to perform individually, in their home setting.
They also only performed three songs out of the traditional seven pieces. This year, the students lent their voices to Dulaman, Ego sum panis vivus and We Can Mend the Sky, conducted by Dr. Lauren Fowler-Calisto.
"When we were rehearsing, it was really hard, because there was so much feedback," said Porter, adding that inter- net proved to be an issue for some kids. "It's so weird to say this, but none of us heard each other sing at all."
Over the Zoom session, the piano player would be unmuted, then the conductor would direct as though each student was in front of her. Students were also in "breakout rooms" on Zoom for each section, such as bass, soprano, etc.
After practicing, the students recorded themselves singing at home, to an audio track as an overlay to watching the conductor.
"It was kind of funny," said Porter. "I'd say it was harder than middle school, I'll tell ya that."
Before Porter turned in his vocal efforts, Lake Holcombe choir director Shaylae Szotkowski was instrumental in making sure his submission tracks were ready to go and giving him pointers on what needed to be changed.
Porter says he enjoyed hearing the other kids once the final cut was released and thought it was interesting, that a friend who made the honors choir in middle school, also qualified this year.
"So, I got to talk to him, albeit, on Zoom," said Porter. "It was still cool."
The virtual performance will be offered Sunday, Dec. 27, at 2 p.m., on 89.7 WUEC Eau Claire, or is available to watch at https://www.facebook.com/lakeholcombeschool/ videos/3123355917891275/.
Porter says he is glad he got to finish out his high school year with the recognition, and mentioned that not many from this area were part of the honors choir.
"I was probably the one or two kids as far (north) as we were, for at least the choir portion."
Jack Porter, Lake Holcombe senior, received a plaque from the Wisconsin School Music Association (WSMA), after he was selected to the Wisconsin State Honors Mixed Choir. The selections were performed virtually this year, with kids from around the state taking part. Photo by Ginna Young
[caption id="attachment_102552" align="alignnone" width="300"]
Jack Porter was one of many kids who formed a heart at the end of We Can Mend the Sky, which touched director Dr. Lauren Fowler-Calisto's heart.[/caption]