Posted on
Chippewa Valley's horizons expand with broadband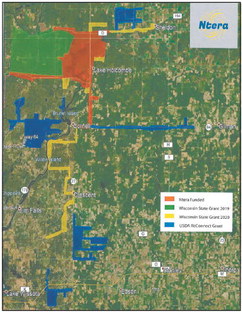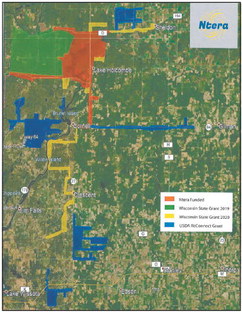 By Ginna Young
It has become clear over the last seven months, that access to high-speed internet is a must, when working from home or conducting business. That's why the United States Department of Agriculture (USDA) is investing $3 million, to provide broadband service in unserved and underserved rural areas in Wisconsin.
The multi-million dollar grant will be used to deploy fiber optic high-speed connectivity to 2,044 people, which includes 33 farms and 33 businesses, in parts of Cadott, Cornell, Holcombe, Sheldon and Gilman. The $3 million is federally funded as part of the ReConnect Program Grant.
The first round of the ReConnect program occurred in 2018, with almost $700 million invested to bring connectivity to 167,000 households across the country. When Round 2 was announced, there was $550 million allocated by Congress toward the program.
The announcement came directly from the USDA, to Cornell, and its surrounding neighbors, Oct. 8, at the Chippewa Valley Electric Cooperative (CVEC) location.
"This has been the result of a lot of hard work by Ntera, CVEC and Citizens Connected," said Frank Frassetto, USDA Rural Development state director. "The partnership between Rural Development and this entity, is going to impact thousands of individuals in Chippewa, Rusk and Taylor counties."
In charge of installing the broadband service, is Ntera, located in Cornell and New Auburn.
"Thank you for stepping up, making a commitment," said Bill Northey, USDA Undersecretary for Farm Production and Conservation. "There was huge competition for these dollars out there."
Currently, 21 million people do not have access to broadband across the country.
"So, the announcement today, is about being able to decrease that number just a little bit," said Northey. "This program is a real priority of ours."
Frassetto says of late, people have come to realize even more, just how valuable reliable and fast internet access is, which is why the USDA is happy to help broaden people's horizons.
"And this is exactly what Rural Development is all about," said Frassetto. "It touches every single aspect of our life…robust broadband is a necessity, it's not an amenity."
Although the competition was tough when applying for the second round of ReConnect grants, Ntera made a compelling case for their rural service area.
"It's Ntera's goal to bring fiber-optic broadband to the underserved areas throughout the Chippewa Valley," said Russ Falkenberg director of IT and member services at CVEC.
With ever-changing technology, those in charge at CVEC and Citizens Connected, recognized that something needed to be done. The two companies joined together and Ntera was formed in 2017.
It was a puzzle that fit together perfectly, as Citizens Connected had the expertise and resources, while CVEC supplied the knowledge of the service area. Now in its third year, Ntera has installed broadband around Lake Holcombe and received a state grant in 2019, to expand to the Birch Creek area. More state grants were awarded to Ntera in March 2020, to help bring broadband to Cadott and Cornell, as well as Sheldon and the Cranberry Lake area.
Falkenberg says Ntera works closely with neighboring electric cooperatives.
"Because of all of this support, our plan is coming together," he said. "…Ntera customers are working from home, attending school and taking advantage of telemedicine, all at the speed of light."
It's been almost a century, but Falkenberg says receiving high-speed internet makes him think of people in the 1930s, when they first experienced electricity in the rural areas of the Chippewa Valley. For Ntera, the thrill of providing broadband is as big now, as it was then, of turning on the lights.
"We take great pride in the fact that we are more than just businesses," said Falkenberg, "we are your neighbors."
[caption id="attachment_93770" align="alignnone" width="300"]
Bill Northey, United States Department of Agriculture Undersecretary for Farm Production and Conservation, lifts his arm in celebration, as $3 million has been awarded for broadband expansion in the Chippewa Valley. Northey was on hand Oct. 8, in Cornell, to share that Ntera will install the fiber-optic high-speed internet in areas of Cadott, Cornell, Holcombe, Sheldon and Gilman. Photo by Ginna Young[/caption]