Posted on
Are chickens eggsactly what the town needs?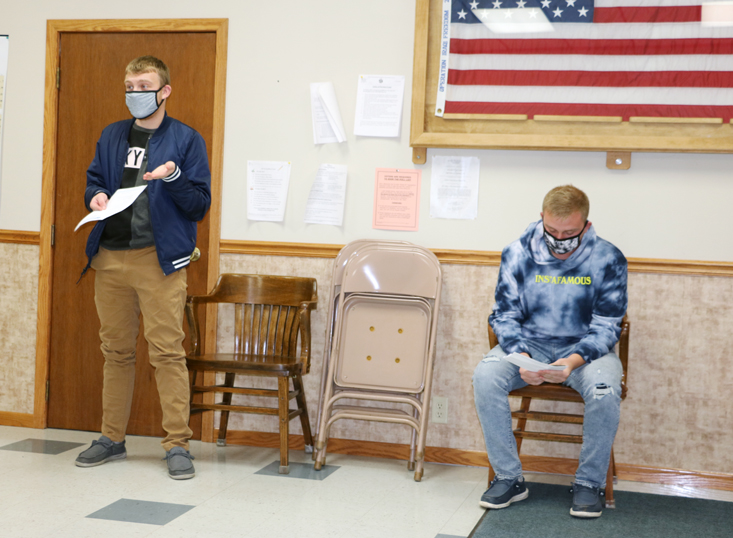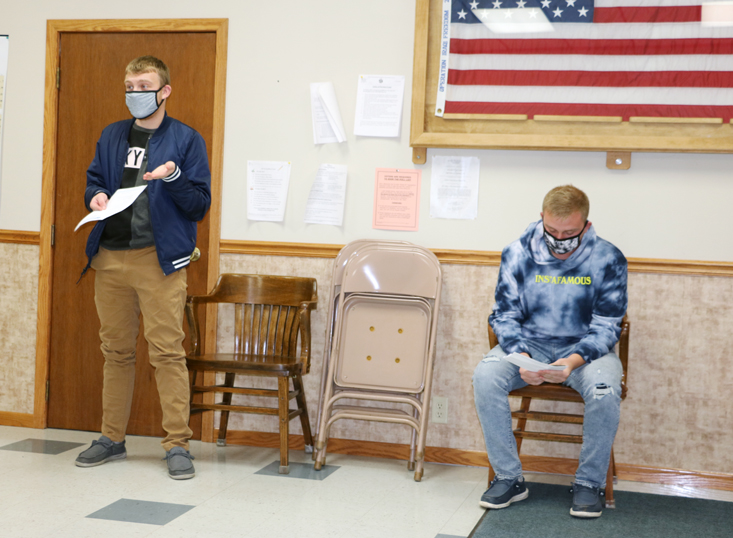 By Ginna Young
Parts of Cornell are zoned agricultural, with some people already raising chickens – while other portions are not in the correct zoning. As such, David Shipley and Jacob Anstice approached the Cornell City Council Oct. 1, to request keeping six hens at their 311 Bates Street property.
"Chickens are pretty good pets," said Shipley. "We basically want them, because the farm fresh eggs are really good."
Shipley pointed out that eggs from home-raised chickens last longer, and have more proteins and vitamins when they are given organic feed. The poultry also fertilize gardens and cuts down on the amount of bugs around a house.
The two said if they were granted permission, the hens would be confined to a coop and not allowed to run loose.
Council member Ashley Carothers said she would like to see the city make an ordinance allowing residents to keep chickens.
"There are a lot of benefits to having your own chickens," she said.
Carothers did stipulate that the ordinance should state owners would get permission from their neighbors surrounding them.
The matter was sent to the Planning Commission, so the public can voice their thoughts and see what the recommendation is that comes back to the council.
Rick Mechelke, Cleveland/Cornell Snowmobile Club member, was also on hand to ask that routes through the city be changed.
"What the snowmobile club would like to do, is make things a little bit simpler for nonresidents to get through town," said Mechelke. "As snowmobilers, when you get into a city or a village, when you don't know where you're going, the simpler you can make it, the easier it is to put up signs. People like being in your city, because it's easy to get places."
Mechelke's plan was to allow access to the restaurants, grocery store and gas stations on Bridge Street, but as council members had a few suggestions, no action was taken. Once the club finalizes the map, it will return to the council for approval.
Carothers said she appreciates the club's work on the matter.
"Anything that we can do to help promote business and obviously, recreation, I'm all for it," said Carothers.
Something that was finalized, was this year's Halloween hours. It was agreed that Trick-or-Treat will be from 3-6 p.m., on Halloween, Saturday, Oct. 31. If anyone does not want to hand out candy, they should leave their porch/yard lights off. A Trunk-or-Treat event will also take place that day, from 3-4 p.m., at the Mill Yard Park, for those who live in outlying areas. Treats must be individually wrapped and store bought, with those handing out candy, wearing masks and gloves.
It's recommended people place candy in Halloween bags or plastic pumpkins the children carry, instead of letting children "dig in" on their own. For more information or to sign up to hand out candy, Carothers can be contacted at 715-828-9071.
Also approved, was a bid for maintenance on the city shop roof from River Bend Roofing in Cornell, for $24,809. Two other bids were received from Rock and Tait Exteriors in Chippewa Falls, for $34,861.30; and Miller's Roof Coatings in Sheldon, for $27,150.
The council also approved Ordinance 20-3, regulating angle parking in the city. Angle or diagonal parking (unless specified by the council) is prohibited on all streets and violations will be enforced by the police department.
As a notice to the public, council member Aimee Korger and chair of the Public Health and Safety Committee, reported that it was made known Sept. 24 at a meeting, that Kids First Childcare on Main Street, is moving across town to the old Headstart Building on Woodside Drive. The daycare currently has limited term parking signs in front of their building for safer pick-up and drop-off of children.
"…Those signs will be removed once the daycare is fully moved from that building, to their new one," said Korger.
In closing, during public comments, council member Bill Kvapil said there is a problem going on at the old Cornell Theatre, as there are scores of feral cats living in there. The vacant building has several broken windows where the felines can get in and out, and Kvapil says after talking with the owner, nothing has been done and asked the council to take action.
Dave DeJongh, city administrator, said that is something the police will need to handle, whether by live trapping the animals or insisting the owner close up the places the cats are getting in. Kvapil said he would follow up with the police chief.
"We're going to have major problems if we don't do something with that," said Kvapil.
Cutline: David Shipley (left) and Jacob Anstice appeared before the Cornell City Council Oct. 1, to ask for permission to raise chickens at their home on Bates Street. The council agreed the matter needs to go before the planning commission to look at all angles before a decision is made. Photo by Ginna Young