Posted on
Janssen tops 1,000 masks to give away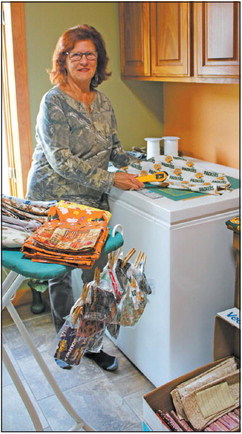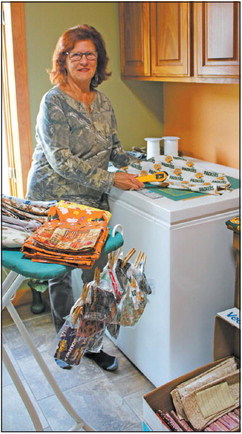 By Julia Wolf
Sally Janssen has a wide variety of materials she uses to make face masks, which she gives away to anyone who would like some. So far, Janssen has made over 1,000 masks.
Many people have used the time available during quarantine, to work on a number of projects. For Cornell resident Sally Janssen, that was no different. She was thinking what she could do to help during the COVID-19 pandemic, when she realized she could sew masks.
"I knew there was a real need for them, so I started sewing," said Janssen. "And then I figured too, if it kept one person from getting sick, or possibly dying, that would make me happy."
Janssen has made over 1,000 face masks since April 7, to give away to friends, family and anyone else who wants them. She has never charged for the masks, since she is doing it to protect people. Janssen has also taken some to nursing homes, hospitals and clinics.
"It's been fun, people I know and people I don't," said Janssen.
When she is free from interruptions, Janssen says she can easily make eight masks in an hour. The most she has made in one day, are 36 masks.
Janssen had material on hand from previous projects, as well as some from her mother. She also bought more as she continued to make masks. She got kid-friendly patterns like Halloween and ladybug designs, and a variety of designs to appeal to men and women, such as floral, sports-themed and camouflage.
One of Janssen's friends was able to find an online place to purchase wire nose bridges for the masks, as well as elastic, which Janssen says she struggled to find at first. She also taught her friend and some of his family members to sew their own.
"It's been trial and error," said Janssen, "because I started Janssen also got creative with her mask display, so people can see the different material options, without shuffling through boxes of masks.
out putting a gauze pad that was to kill 99 percent of bacteria."
She says she figured the gauze was better filtration than nothing, but then they were hot to wear. After that, she started using half a gauze pad in some of the masks she makes.
She says her next plan is to make more kids masks, now that school is back in session. Janssen recently found pieces to make the ear loops adjustable for the children's masks.
"I thought, maybe, if I make some more for kids that are not just plain, they'll be happier to wear them," said Janssen.
Anyone who would like masks, can call Janssen at 715-577-6367.
Cutline: Sally Janssen has a wide variety of materials she uses to make face masks, which she gives away to anyone who would like some. So far, Janssen has made over 1,000 masks. Photo by Julia Wolf
[caption id="" align="alignnone" width="242"]
Janssen also got creative with her mask display, so people can see the different material options, without shuffling through boxes of masks. Photo by Julia Wolf[/caption]