Posted on
The events of 9/11 can never be unseen or forgotten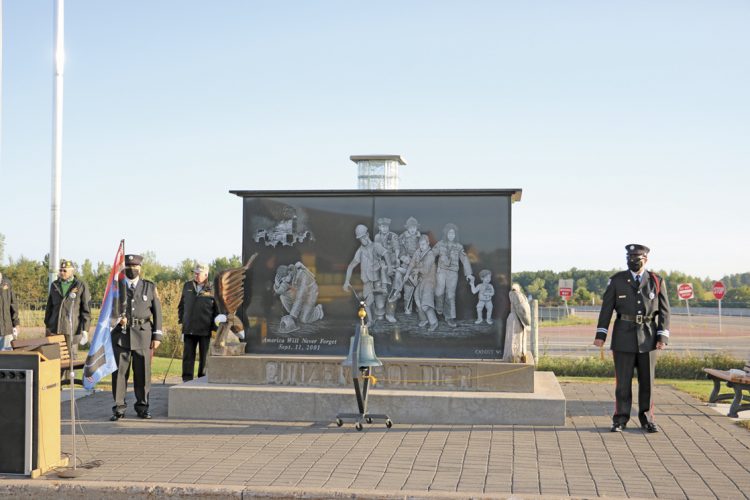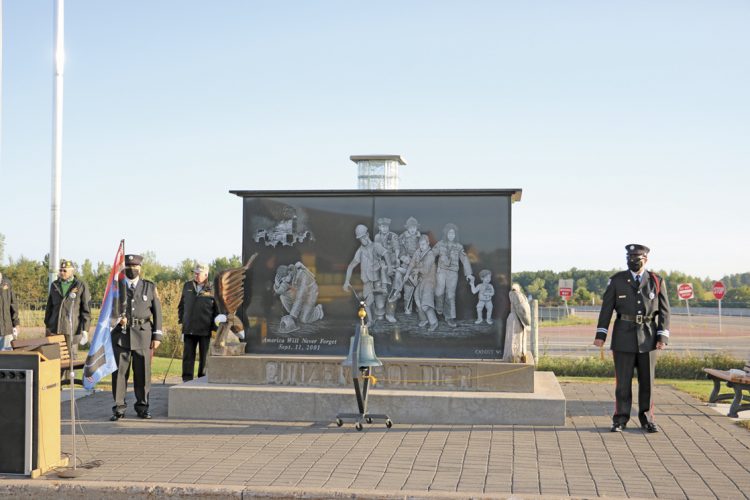 By Ginna Young
Despite a never-ending flow of traffic on nearby State Hwy. 29, when the Freedom Bell Moving Salute rang out its toll Sept. 11, at a ceremony in Cadott, it seemed as though the echoes of the gong were all those present could hear. The bell was rung in memory of the lives lost in the terrorist attacks on the Twin Towers (World Trade Centers) in New York City, N.Y., Sept. 11, 2001.
It's been 19 years since the 9/11 attacks, but there are many who can never forget that horrible day. Included in the ranks, is Capt. Jim Anderson, a pilot with United Airlines, who spoke at the memorial.
"We can never unsee what happened," said Anderson, in reference to the two airplanes who were hijacked by terrorists and crashed into the towers, causing their imminent collapse. "This has a special meaning to me, as my friend and classmate, Capt.Vic Saracini, was the captain of (flight) 175 (which struck the south tower)."
In addition, to the towers, the Pentagon was also attacked and what is known as the "Hero Flight," crashed in a field before reaching its target, thanks to the passengers, who overthrew the terrorists, but lost their lives in the process.
Almost 3,000 people died that day, ages two to 85, whether from the crash, the towers collapsing, resulting explosions or from rescue personnel trying to save those they could.
Anderson, and others, spoke in remembrance of the events of 9/11, with the Cadott High School treble choir singing the Star Spangled Banner and America the Beautiful. Afterward, people were invited to sign a 9/11 flag in honor of law enforcement and rescue personnel.
Anyone who wished, could also have the Freedom Bell rung in memory of a loved one or friend who served in the military.
"It's truly a spiritual transcendence," said former senator and Cadott native Dave Zien.
This is the seventh year the ceremony has been held at the Cadott Veterans Tribute/Citizen Soldier monument. Each year, Cadott resident Larry Buttke organizes the event and speakers admit, without his efforts, it might not take place.
Zien encouraged those present – and everywhere – to stroll through the many flags and displays set up at the tribute.
"What makes this place so special, is this (monument)… is on Citizen Solider Highway," said Zien. "Highway 27, according to state statutes, is the only Citizen Soldier Highway in perhaps the United States of America, perhaps the world. You got a lot of things that make it extra special."
In closing, Anderson thanked those present for attending the ceremony. He also paused to remember that fateful day almost two decades ago, and noted that it was 102 minutes from the time the first airplane hit in New York, until both towers were nothing more than a burning pile of rubble.
"For those of us that were old enough at that time to be watching TV, it's something you'll never unsee."
Cutline: Retired Lt. Brian Kranz (left) displays a flag honoring law enforcement and rescue personnel, while Capt. Bob Haller rings the Freedom Bell Moving Salute, during a ceremony Sept. 11, in Cadott. The memorial was held at the Cadott Veterans Tribute, in remembrance of the events that took place 19 years ago. Photo by Ginna Young