Posted on
Randy's Ride even bigger than organizers dreamed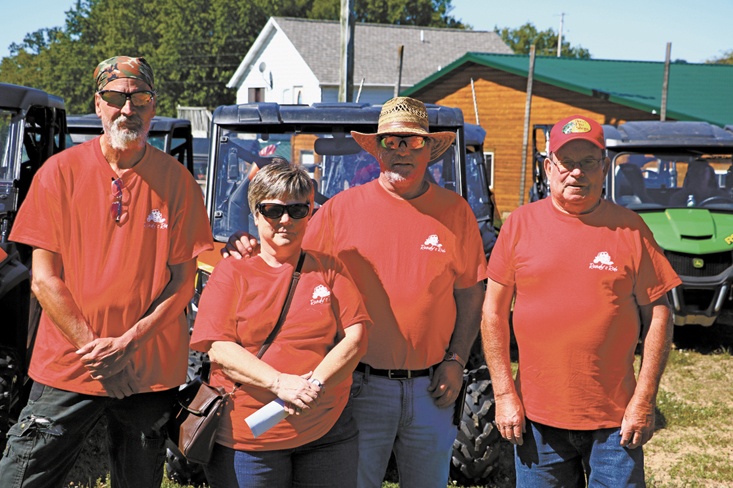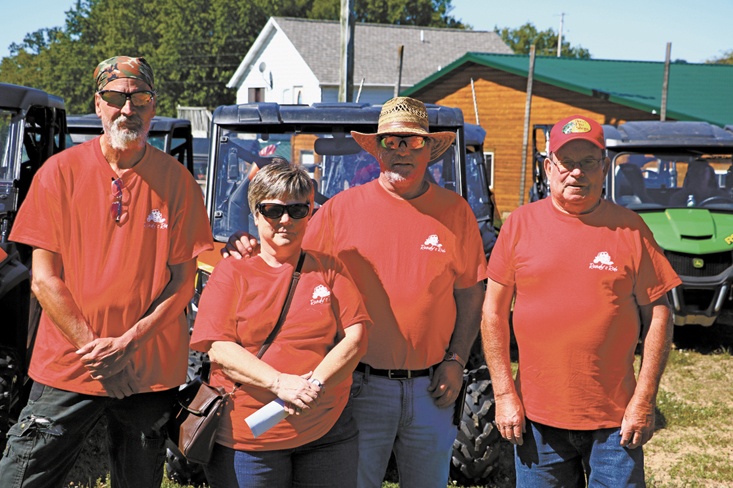 By Ginna Young
All it took was the mention of Randy Goettl's name and hundreds flocked for an ATV/UTV fundraising ride Aug. 29, known as Randy's Ride. Randy, of Randy's Jim Town Inn fame, was a huge fan of ATV-UTV riding and loved to donate money for children's needs.
Combining those two passions, his family and friends put their heads together, and came up with a way to remember Randy almost a year since he passed away (Sept. 18) from cancer, while raising money in his name.
"We wanted to do a ride in his memory," said his wife, Phyllis Goettl. "So then, when we decided we're going to do a ride, let's raise some money and do what Randy liked to do best."
With members from the Anson ATV Club, of which Randy was a founding member, the Arthur ATV Club, Cornell Area ATV Riders, and groups from Holcombe and Lafayette, the ride started at the Jim Town Inn, continuing to Goettl's Drywood Tavern, Halfway Hall, Shady Nook, Crescent Bar and back to Jim Town Inn.
As part of the ride, 161 ATV/UTVs, cars and motorcycles made the day-long trek, and with money collected from donations, prize and raffle drawings, $7,074 was raised. Of that, $2,000 will stay local for playground equipment at the Jim Falls Elementary School, while the remainder will be given to Shriner's Health Care for Children in the Twin Cities.
"We just want you to know four-wheeling isn't all about just going from tavern to tavern," said Phyllis. "It's doing good for the community."
Every year, the Anson club donates to the elementary school for supplies and holds a Christmas drive to collect warm clothes for those in need. They also hold Christmas caroling for the elderly and create goody baskets to drop off.
"We try to do a lot of things," said Phyllis.
"People don't realize what we do," said Cornell club president Bill Kvapil. "It's for the community, it's not just to fatten our pocketbooks, but to show the community that we're out there to try to help, too."
Once someone becomes a member of an ATV club, they will be instructed on proper use of their vehicle, rules and regulations, and roadway etiquette.
Kvapil says an ATV/UTV October Fest is also in the works at Cornell, with a charcoal chicken dinner planned and more details to follow.
"We'll see how that works," he said.
As for Randy's Ride, organizers said they were floored by everyone who was present that day.
"It's overwhelming," said Phyllis.
Cutline: Taking part in Randy's Ride Aug. 29, to honor Randy Goettl, the Cornell Area ATV Riders donated $300; the Anson ATV Club gave $250; and the Arthur ATV Club donated $100 for the fundraising to benefit the Shriner's Hospital. More than $7,000 was raised that day, with 161 ATV/UTV vehicles taking part in the day-long journey around the Cadott and Jim Falls area. (Center) Present for the donations, left to right, are Matt Patrow, president of the Anson ATV Club; Phyllis Goettl, treasurer of the Anson club and Randy's wife; Bill Kvapil, president of the Cornell Area ATV Riders; and Deone Goettl, treasurer of the Arthur ATV Club and Randy's brother. Photo by Ginna Young