Posted on
Tate Sauerwein begins season as All-American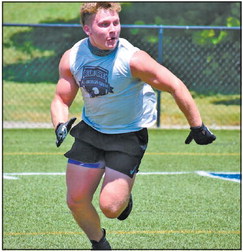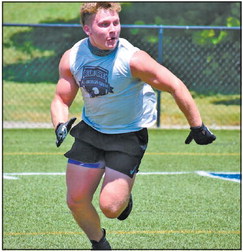 Going into his senior season of football, Holcombe's Tate Sauerwein can add All-American to his profile. The ranking comes after Tate took part in the Blue-Grey All-American Tennessee Super Combine, in July.
There were various Regional combines throughout the United States, but most of those got canceled, because of the COVID-19 pandemic.
"Then, those (Regional combines) would eliminate most of the prospects to go to the combine that I went to," said Tate. "So, I immediately got invited to that (Tennessee combine), because all the ones in the Midwest got canceled."
Performing as a running back, at 5'10", 205 pounds, during the combine, Tate worked on speed and agility, as he felt he already had good strength.
"From [the 2019] football season to now, I gained like 25 pounds," said Tate. "Although it wasn't like a huge improvement, I was just happy that I didn't slow down after gaining all that weight. I felt I did really, really well."
Through Red Zone, the NFL Veteran Selection Committee thought so, too. In their analysis, the committee said Tate is a good size and is as strong as they come for his position, with athleticism and speed. He was also deemed a capable runner and pass-catcher.
Sauerwein has what it takes to be a steady contributor at the next level, wrote the committee. A Blue-Gray All-American candidate, he projects as an NCAA Division I or Division II recruit.
"We're proud," said Sarah Sauerwein, Tate's mom, to which his dad, Todd, agreed. "He works hard. He deserves everything he gets and more."
Coming on the heels of his Red Zone evaluation, Tate received an invitation to attend the All-American Bowl at AT& T Stadium in Arlington, Texas, where athletes get heavily scouted by college recruiters in January.
It's still unclear how the high school football scene will look in Wisconsin, but Tate is focusing on ending his senior year the best way he can. He says he just wants do his thing, enjoy playing and continue to get better.
Tate is anticipating his role this year, with the Cornell-Lake Holcombe Knights, as a halfback and middle linebacker. Last year, Tate ran for 1,000 yards, with the promise to increase that amount this time around – in a shortened season.
"You know, it's another challenge," said Tate. "I'm excited. It's going to be fun. Even though it's going to be short, I think we'll have a really good season."
Practice is set to begin Sept. 7, with reduced games, but Tate is just happy to play and achieve his dreams.
"I want to definitely be All-State, that's the goal," he said, "and if I could go past that, that'd be great."