Posted on
Public gives nod to take ownership of memorial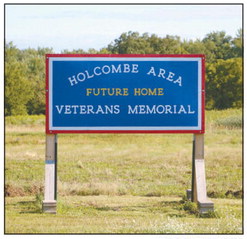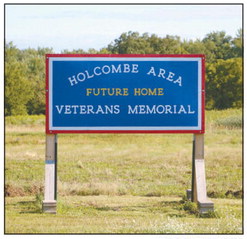 We are dedicated to provide a place of honor and pay tribute to all veterans, past, present and future.
That's the mission statement of the Holcombe Area Veterans Memorial, which was started in 2018, by Holcombe resident Brian Guthman, who thought the town needed a tribute to those who served their country. Guthman looked for interest in the memorial and the group steadily grew.
Over the months that followed, an election took place for an official committee, with the committee narrowing down aspects of design and placement. Once the design was agreed upon, the group took their plans before the public at the Town of Lake Holcombe annual meeting July 23.
"What you see here tonight, is the accumulation of almost two years of brainstorming by our group," said committee chairman and veteran Jim Mataczynski.
Last fall, veteran David Stauchdacher and his wife, Sue, donated a piece of their property on 263rd Street, which has been designated as the home of the memorial.
"Since then, many donations from area organizations and people have come in," said Mataczynski.
Veteran Dave Conrad and veteran Ron Jiskra designed the Holcombe memorial, coming up with a circular plan than seemed different from other memorials, after Conrad pounded the pavement and looked at all kinds of different memorials, and hit up the internet for designs. The local memorial includes listing all Holcombe area (school district) veterans, anyone who went to Lake Holcombe School, and any veteran who comes into the community and retires.
The memorial site would alphabetically list veterans as far back as the Civil War (or farther), with room to add more names as people enlist. Conrad says everyone knows a veteran or has one in their family tree somewhere.
"There are a lot of veterans out there who need to be recognized," he said. "We want to do a very specific monument and add to this for those people that paid the ultimate sacrifi ce for freedom."
Jiskra says he has volunteered for the Highground Veterans Memorial in Neillsville, and that even younger veterans come from all over to visit the site.
"Once people hear about this and see it being built, and getting bigger and bigger, it's going to help your tourism in this area, also," said Jiskra. "We want people to say, 'You gotta go over to Holcombe, and see their memorial.'" With the design of the new memorial, a circle as the heart of the area represents all U.S. Military forces, with a compass-like shape that provides direction. The memorial star represents the five branches of the military – Army, Navy, Marines, Air Force, Coast Guard, including the newly formed Space Force.
"There's history and tradition in everything in the military," said Conrad.
In addition to the honor walls for the veterans, there would be walls listing the names of individuals and organizations, and their levels of donating, such as gold, silver and bronze levels.
"Everybody gets recognized," said Conrad.
Legacy stones dedicated to family veterans and memorial benches would be sold to help pay for the memorial, along with other fundraising efforts. Conrad said after talking with a lot of area veterans and contractors, that the public is willing to help make the memorial a reality.
"I think we have some very talented people that would help us with the stone work and stuff like that, as we come along," said Conrad. "Our intent is not to dump this on the Town of Lake Holcombe, saying, 'You pay for it.' Our intent is to get the donations from people…the maintenance and upkeep…would be on the area veterans to do."
Conrad said then a younger veterans group could take over upkeep, when the time comes.
Being under the town's ownership helps out with fundraising and the ability to solicit tax deductible donations; with insurance coverage (capped for liability); provides short-term access to town equipment/operator for off-loading materials at the site during construction; and town/public oversight.
Coming under the town's ownership would also mean the group is not spending donation money to get non-profit status. Instead, there would be a line item in the town's budget used for maintenance and construction. Conrad says they would also like to solicit help from the school, to help with landscaping.
"The more ownership you get into any project, the more people are going to take value there," said Conrad, "and less likely it's going to get vandalized or anything like that."
Based on what the group's research shows, costs would be around $125,000 to complete the model, as the five honor tablets would be $87,000. However, Conrad said the memorial does not have to be completed all at once and can be done in phases.
"I think with any project, if you don't actually have it started, people don't see a tangible result, a physical result, they kind of lose interest in it," said Conrad.
"We're really trying to keep it with the local contractors, so that they're all part of it," said Mataczynski.
The veterans group asked the board and voters to be under the ownership, to ensure the park is maintained and lasts for years to come. With more than 20 people present, a unanimous vote took place to take ownership of the memorial, as well as contributing $1,000 each year to the site.
With the nod from the town, the memorial can now move ahead as planned.
"People come and go, and we feel that being part of the town, it'll never go away," said Mataczynski. "It'll always be here, as long as Holcombe's here."