Posted on
Updated mobile home ordinance nearing completion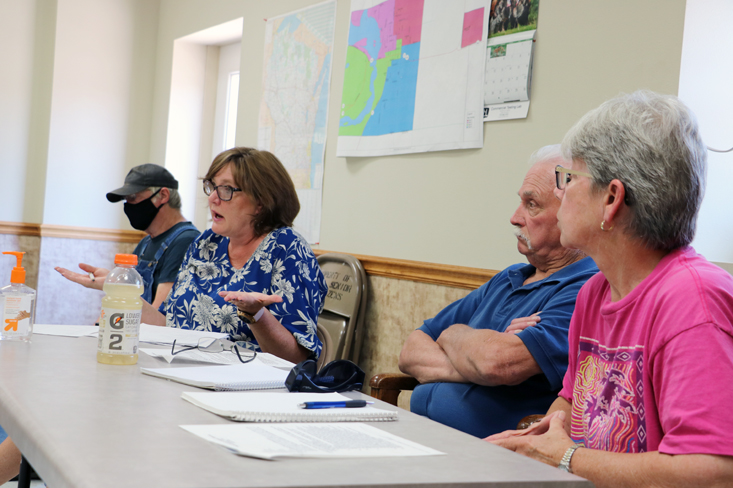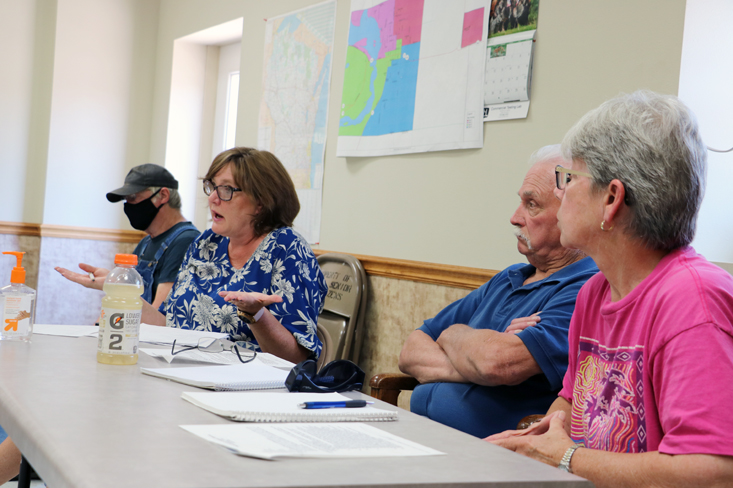 It's something that's been batted back and forth for a year – creating a mobile home park ordinance where everyone is happy. The Public Health and Safety Committee again held open house in Cornell, July 2, in an attempt for a final agreement.
Committee chair Aimee Korger said she would like to have an agreement to move forward on the matter, as the last meeting was in February, before things were shut down because of the COVID-19 pandemic. Since that time, owner of the Southview Trailer Court Elroy Leja, asked for some help in navigating what the committee has in mind.
Accompanying him to the meeting, was Amy Bliss, executive director of the Wisconsin Housing Alliance.
"We kind of have a new dynamic when we discuss here today," said Korger. "As we go forward, we just want make sure we are being respectful of everyone and that that is how we proceed."
In prior meetings, a list of requirements for the mobile home courts was composed, including that any new trailer placed on the property shall be 12 years old or newer (those already at the court are grandfathered in); those grandfathered in that are 30 years or older, would be removed once vacated, and not resold or rented; a new trailer must be set up and skirted within 72 hours; garbage removal would need to be supplied by the mobile home park operator; and the operator would determine when a visitor is no longer a visitor and becomes a resident.
Korger said she now understands that some of the "wish list" items may be illegal to ask of Leja. Bliss agreed, and pointed out that in order for correct terminology, all trailers built after 1976 are considered manufactured homes, while anything built prior to that is a mobile home.
"Just so you know, I'm not an attorney, but I've helped landlords and tenants for 30 years," said Bliss, adding that Leja cannot evict a person based on the age of a home. "There are the health and safety welfare issues. If a home isn't safe, obviously, that needs to be corrected if it can maintain habitability standards."
Bliss recommended that instead of requiring homes to be 12 years or newer, that the ordinance could state the structures be required to have vinyl siding or a pitched roof, instead of discounting older models altogether.
"Maybe you can have some review process or something," said Bliss.
Bliss said with any housing industries, there are cycles, where specific housing can't always be found, as some homes were not made after 2008 and 2009.
"The economics of it doesn't make sense, to have a year," said Bliss. "You might want to consider that type of criteria vs. the year, because you want him (Leja) to upgrade those homes."
"We chose a year, because we used four cities (who have mobile home ordinances) when we were trying to help figure out how to improve our ordinance," said Korger. "We found that there are cities that are limiting, based on the year it was made."
Korger says some of the neighboring city ordinances are more strict, while some are more lenient on the age, so Cornell took the middle ground.
"We certainly aren't trying to make it so that there is not affordable housing," said Korger. "We're really trying to make it so that when a home is purchased to place on that property, that it is in a condition that allows you to turn around and get that rental out right away."
Korger says the committee and council's goal has been to have a court where if someone drives by, and sees a vacancy, they want to live there.
"That's only what our goal has been," said Korger. "It's not been to make it so that you can't rent or so that you can't find the homes. It's really only been to help."
"It's also been to hold accountability, as well, I think," said committee member Ashley Carothers, "for keeping the property clean and keeping it, I guess, livable."
Bliss said that is where she comes in, and that Leja may need updated leases with stricter rules and regulations. As for the age of the homes, Leja says hardly anything is available to purchase or rent after the 2000s, other than brand new units.
Carothers said she has no problem with changing the year limitation, but is concerned with Leja following through on skirting and repairs.
"Have you been through the trailer park lately?" asked mayor Mark Larson. "It looks real nice."
"It is looking better," agreed Carothers.
Korger says the committee is striving to help Leja, by setting their ordinance to give "teeth" to his lease, to help correct any is- sues brought on by tenants, something that is not the police department's job. Leja did say each unit has garbage service now, paid for by the renters, as is required in his updated lease.
A time frame also is needed for limiting time for skirting to be put on. Korger said with certain exceptions, such as multiple days of pouring rain or heavy snowstorms, the units need to be set and ready to go within a reasonable amount of time.
"We understand there are extenuating circumstances that would prohibit that," she said.
"That's where we would need the communication from the owner," said Carothers.
Cornell Police Chief Brian Hurt said he has dealt with many issues at the courts over the last several years.
"I would strongly advocate we have the terminology in there, creating deadlines to get things done," said Hurt.
Korger felt a two-week time frame to set a trailer would be acceptable, while Carothers thought two weeks was more than fair. Committee member Terry Smith said he didn't think two weeks is long enough, as he worked setting trailers one summer.
"I know a lot of stuff can go wrong," said Smith.
Leja said he thought two weeks would be no problem to get the unit set in, but said skirting may take longer.
Korger also asked about inspections and Leja said most of the homes on his court are inspected, as many of the renters obtain their home through the Chippewa County Housing Authority. Korger also brought up that the city's current ordinance states Leja must have a registry of how many people live in the residence.
Leja said he does have that, which can be accessed.
Hurt mentioned that he and Leja had a good working relationship, historically speaking, but things went awry when issues at the court arose.
"I want to bring that back, because I think it's for the best of the community," said Hurt.
Korger added that the ordinance is not just for Leja's property, but to ensure all landlords in the city have safe housing for tenants.
"This is for all of our rentals," said Korger.
Once Korger and Bliss sit down together to make sure everyone is on the same page, the proposed ordinance changes will go before the Planning Commission for their recommendation, before returning to the city council for approval.
"We gotta dot all our 'I's,'" said council member Floyd Hickethier.
Smith said he feels like the group is finally getting somewhere with their understanding.
"It's good everybody's talking about it and aware what they got to do," said Smith. "So, maybe we can avoid some intense meetings."
[caption id="attachment_74076" align="alignnone" width="300"]
Amy Bliss, executive director of the Wisconsin Housing Alliance (left), spoke on behalf of mobile home court owner Elroy Leja (center), at a Cornell Public Health and Safety Committee meeting July 2. It was agreed to fine tune wording for a proposal to be sent to the Planning Commission to recommend ordinance changes. Photo by Ginna Young[/caption]