Posted on
Holcombe home to new public pickleball courts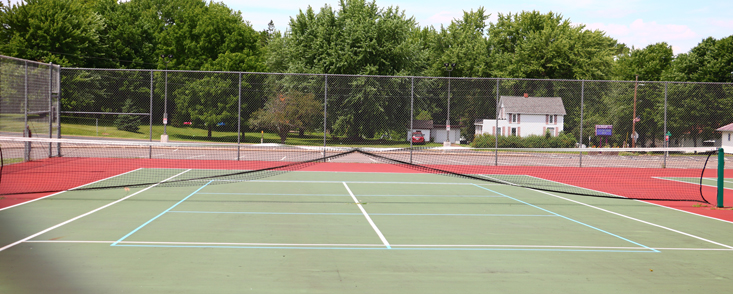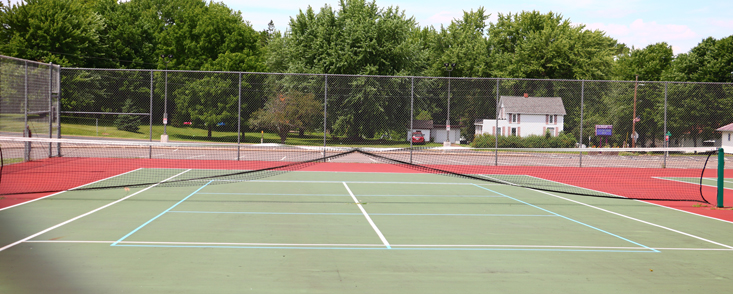 Pickleball has become very popular in the last few years, as a lower impact game than tennis. Because of its growing popularity, blue lines have been added to the existing tennis courts next to the parking lot at Lake Holcombe School.
This spring, Amy Lorenzen, phy ed teacher, asked head of maintenance Tom Hayden, if it was possible to install lines and nets on the courts.
"I said, why not?" said Hayden.
Hayden says he had a couple families ask about the courts, as well as a few older people. Even principal Mark Porter mentioned pickleball on request of someone who emailed him.
Unbeknownst to Porter, Hayden had already started proceedings to get pickleball at the school. As part of the project, Hayden first needed to receive blessings from the DNR, as they were the ones who built and donated the court years ago. Someone still comes every three years, to inspect that the court is up to DNR standards.
"We have to maintain it," said Hayden.
An enthusiastic nod from his contact at the DNR and Hayden was full steam ahead with the courts. Going as local with the work as possible, the son of resident Al Harp painted the lines through the company he is affiliated with, when he was visiting his father one weekend.
The courts are open at all times, for all ages, residents and visitors alike. People need to bring their own racquets and balls to play on the courts.
"I think it's a big boost for the local people not in school," said Hayden. "They love it."
Although he had to wait for the painted lines to dry for a week, and for the wrong size nets to be changed out, Hayden says the pickleball courts are ready to be played on.
"I think it's a great thing," he said. "I think they'll be out there for a long, long time."
[caption id="attachment_74083" align="alignnone" width="300"]
The public can now play tennis or pickleball, as lines for both the racquet games are painted on the court by Lake Holcombe School. The courts are open at all times for anyone who wants to hit the ball around. Photo by Ginna Young[/caption]