Posted on
Brick walls are placed in front of dreams for a reason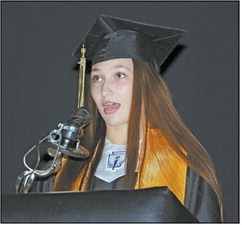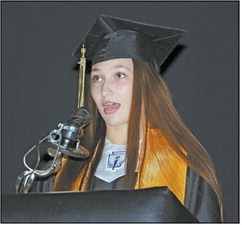 Family members gathered for the 134th Cadott High School graduation commencement ceremony July 10, with a more spaced out event. Because of the COVID-19 pandemic, students walked through the diploma line one at a time, while their parents were brought into the auditorium in small groupings.
Although this year's senior class didn't get to have their prom or final sports season of their high school career, superintendent Jenny Starck said there were blessings that happened so far in 2020, if kids take the time to notice them. In her speech, Starck referenced a professor who was diagnosed with cancer and his thoughts on achieving childhood dreams.
Starck says hardships can frame perspective during trying times.
"Brick walls are there for a reason," said Starck. "The brick walls are not there to keep us out. The brick walls are there to give us a chance to show how badly we want something, because the brick walls are there to stop the people who don't want it badly enough."
High school principal Caleb Hundt added his thoughts to Starck's, imploring students to get back up when knocked down and to not fight the small stuff. Hundt says the Class of 2020, has risen above adverse times and proven why their class is special.
In all things, Hundt asked seniors to do good and always be a leader.
"We need leadership now more than ever," he said.
Salutatorian Brigham Bejin then took his turn at the podium, asking the audience to imagine if the seniors had been able to finish out high school, continue playing four-square and catch a 16-inch crappie. This year, none of that happened.
"Although, I am still kinda hopeful about that crappie," said Bejin.
Bejin said life isn't fair, but there is nothing anyone can do, but move on.
"This is just the beginning for us," said Bejin. "This is the time in our lives when we must learn to become independent."
Whether it was violations in Mr. Erickson's class, to Mr. Peters stabbing himself in the face with his baton, Bejin thanked everyone who helped him on his high school journey.
"Our class is full of talented people, who can accomplish great things if they set their mind to it," said Bejin. "The future will be what you make of it."
Finishing out the speeches, Valedictorian Tabitha Sikora talked about her perspective on her high school career.
"Not everyone can say they got to teach the new principal how to play four-square the right way," she said, "or that they got to have Mr. Rothbauer call them 'beast' when they solved the most difficult math problems likely."
Sikora asked that students take advantage of opportunities and never take anything for granted, and use what they've learned to drive future decisions and try new things. She said the seniors' individual experiences have contributed to the legacy their class leaves in the community.
"And I'm proud to say that the home of the Hornets, is now home to tomorrow's doctors, lawyers, teachers and individuals, that will make the world a better place."
Scholarships and awards presented totaling $79,793.64, include the following:
• Brigham Bejin ($1,750) – Manufacturing Works 2020
• Brooke Bremness ($3,366.79) – Chippewa Valley Electric Cooperative; Roger Hager Memorial; Ruscin Memorial; Tobola Educational Fund
• Mitch Drilling ($2,750) – FFA Alumni; Technical Excellence • Abby Eiler ($5,366.79) – Chippewa Valley Electric Cooperative; Edith E. Couey; IBEW Local Union 14; Leann Marie Frank Memorial; Rainbow Raiders Snowmobile Club; Roger Hager Memorial; Tobola Educational Fund
• Paisley Kane ($500) – Nancy Knitter
• Brooke Pederson ($7,316.79) – American Legion Lee Danielson and Larry Milling; Bohemian Hall Lodge 141; Future Business Leaders of America; Jim Falls Lions Club; Nancy Knitter; Roger Hager Memorial; Ruscin Memorial; Tobola Educational Fund; UW-Whitewater Department of Music
• Steven Pfeiffer ($200) – Tom Blanchette Wrestling Club
• Ashley Rajek ($4,816.79) – Albert A. Tannler; Chippewa Valley Electric Cooperative; Chippewa Valley Equity Shipping Association; Citizens State Bank; FFA Alumni; Roger Hager Memorial; Tobola Educational Fund
• McKenzie Ryan ($1,250) – Chippewa County Youth Court; Chippewa Valley Electric Cooperative; Roger Hager Memorial
• Tabitha Sikora ($6,491.79) – Academic Excellence; National Honor Society; Roger Hager Memorial; Tobola Educational Fund; UW-Green Bay Marjorie Kiewit Endowed • Jennifer Sonnentag ($6,066.79) – Cadott Staff; Eugene and Margaret King; FFA Alumni; Nancy Knitter; Ryan Wilson Memorial; Tobola Educational Fund
• Brady Spaeth ($600) – A. Pat Mrotek/Ed Lenard Cadott Wrestling Club
• Ben Steffes ($2,616.79) – FFA Alumni; Tobola Educational Fund
• Liz Steffes ($8,116.79) – Anderson Trust Memorial; Family, Career and Community Leaders of America; FFA Alumni; Junior High Student Council; Roger Hager Memorial; Tobola Educational Fund; UW-Stout Chancellor's
• Ethan Tegels ($400) – Bill Nye Cadott Wrestling Club
[caption id="attachment_74073" align="alignnone" width="242"]
Valedictorian – Tabitha Sikora[/caption]