Posted on
Tales of our Beginnings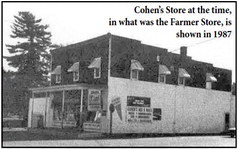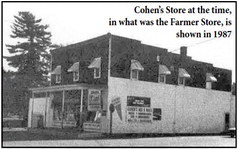 Cadott • Cornell • Lake Holcombe areas
Farmer Store Began Early On
On Lots 1-4 in Block 3 of the Davis Falls Plat, a building was constructed by Dick Hinke in 1920, for a Farmer Store, known officially as the Jim Falls Cooperative Mercantile Co. John W. Thomas was president of the enterprise, G.M. Sovde was the first cashier and Carl Stenseth was the manager.
The Jim Falls Bank turned this ownership over to the co-op in 1924, and it was under the management of Frank Douglas and Jeff Monpas. By then, the presidential position was given to Clarence Balts and Herman Ehler was the secretary.
During 1927, financial problems were entering into a serious phase for businesses, farmers and almost everybody, as the "big crash" was coming. One stockholder, Julius Gerber, was obliged to pay for the incoming materials, which were ordered.
C.E. Ellsworth, head cashier of the bank, released Gerber's savings and allowed him to make payments for the merchandise, making a lien on the stock of supplies in Gerber's store, thus saving the storekeeper's interest in the company.
Also in the Depression times, in November 1927, Monpas, then a widower, sold his interest to Douglas and his wife, Hattie. By January of 1928, the title through the bank was cleared to Douglas and Monpas from the cooperative. At this time, Gerber accepted from Douglas a house in Chippewa Falls, for satisfaction of liens against the store goods.
At one time during the Depression, the Douglas' sent Christmas cards to all who were on the IOU list, stating that their bills were paid in full, a wonderful Christmas gesture indeed.
There were small living quarters downstairs in the mercantile, just to the right of the rear entrance of the stairs. Granum Cohen and his wife, Fannie, leased the building in 1937, beginning their venture of operating the business as a general store. The Cohens purchased the Farmer Store in 1954, and their son, Harold, and his wife, Harriet, took over ownership in the 1970s.
(Courtesy of The Making of Jim's Falls and Area) Cohen's Store at the time, in what was the Farmer Store, is shown in 1987