Posted on
Smith Endowment Fund helps out visitors center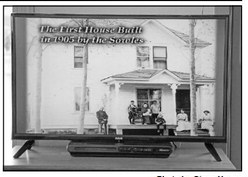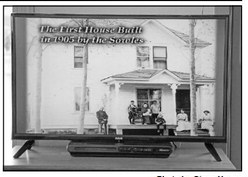 The Cornell Visitors Center has seen not only expanded hours, but also new equipment in 2020. Thanks to the Charles J. and Sally E. Smith Cornell Community Endowment Fund, through the Community Foundation of Chippewa County, items were purchased this spring for the visitors center.
The Smith Endowment Fund was set up by the Smiths' children in memory of the Cornell couple, with monies awarded to community-based needs. The visitors center applied for, and received, $446 this year, with which a 32-inch TV, DVD player, local TV antenna, printer with a scanner and two bookcases were purchased.
"I was happy to get it," said visitors center director Judy Talbot of the grant.
Last year, Talbot had set up a TV from her house in the center and campers at the nearby state park often came to check the news. This year, the new TV/antenna have already seen use, as, with recent severe weather in the area, people on bicycles stopped to see what the forecast was and changed their plans accordingly.
"It has become invaluable already," said Talbot.
In addition to providing news and weather, slides can be played on the monitor of old photos and the history of Cornell.
Talbot believed she would have enough from the grant to purchase a TV, DVD player and printer, but when the funds came through, it turned out because of online sales and free shipping offers, that she had enough left over for the antenna, bookcases, binders/pages and extra ink for the printer.
"I spent the money extremely wisely," said Talbot.
As part of what the visitors center offers guests, free local guides and Wisconsin maps are available. The visitors center also plans to be open for the Friday, July 3, fireworks in the evening, where Talbot will sell popcorn, bags of chips and bottled water.
Talbot says the popcorn should be a treat, as it will be prepared with coconut oil.
"So, it's going to taste like movie theater popcorn," said Talbot.
The visitors center is open Wednesday through Monday, from noon to 4 p.m. Splitting the center's hours with Norm Peters, Talbot can sometimes be found watering flowers outside the building on Tuesdays, if anyone is interested in touring the center.
"If somebody stops, I'm going to let them in," said Talbot.