Posted on
Rendezvous receives waiver for rental fees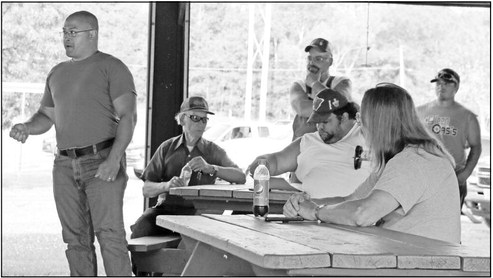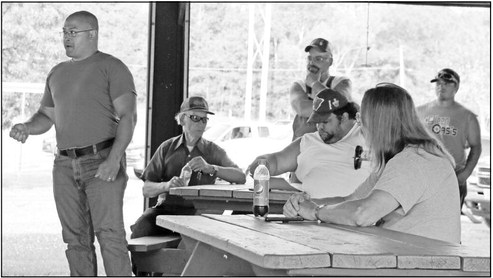 This year's Chippewa River Rendezvous is planned, like always, for August, and because of a decision from the Cornell City Council June 18, the group will not have to pay to rent the Mill Yard Park pavilion. Members of the group had approached the council at the last meeting, asking that the fee from a newly instituted rental agreement be waived, as the money raised from the event and brat stands each year, goes back into offering the free historical re-enactment.
The matter was sent to the Finance Committee, which met before the June 18 regular meeting, contingent on the group providing proof of non-profit status. A certificate of exempt status was turned into the city office, without another document for non-profit status.
"After talking with the state, we found that they had said you have to have a non-profit to get a certificate of exemptions status," said council member Ashley Carothers, adding that at one time, the rendezvous must have had a certificate showing they are non-profit. "But, there was still no proof brought to us of a non-profit."
Marc Aspiras, rendezvous member, says the group does have paperwork started to receive non-profit proof, but that it will take 90 days to receive it. Therefore, Aspiras asked that the council waive the fee, based on the merit of the group's efforts and what the rendezvous event brings to Cornell.
The cost to rent the pavilion is $40 per day, Friday and Saturday, with a half fee for Sunday through Thursday.
"I do believe Mayor (Mark) Larson also found a sponsor, as well – a private citizen was willing to donate," said Carothers, who recommended waiving the fee. "They would need to understand that they would have to follow the rules that are outlined in the pavilion rental agreement."
Tom Spaeth, rendezvous member, said the group didn't know they needed to provide non-profit status in order to rent the pavilion. Carothers said she had gone to Spaeth's daughter and rendezvous organizer, Hope Jones, and told her there were probably going to be some changes, as far back as last July.
"I don't want to be in this position again next year," said Carothers.
"It's not nice for us, either," said Aspiras. "We have gaps internally."
Council member Aimee Korger asked if the waiver would apply for every year of the rendezvous, or if the group would need to approach the council each year, and request a waiver.
"Just this year," said council member Floyd Hickethier, "they'll have their card (non-profit proof) next year."
"Yes, we should have everything set up for you next year, well in advance," agreed Aspiras.
[caption id="attachment_69390" align="alignnone" width="300"]
Marc Aspiras, Chippewa River Rendezvous member (standing), pleads his case in front of the Cornell City Council June 18. The rendezvous group asked the council to waive the fees for renting the pavilion, as the money brought in from the event, goes back into the next year's happening. Photo by Ginna Young[/caption]