Posted on
Mud Fest given go ahead, despite some concerns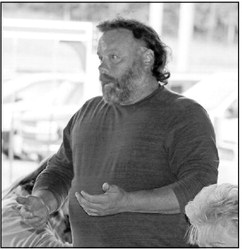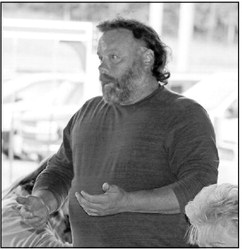 Cornell City Council
Things got a little muddy at a regular Cornell City Council meeting June 18, as the gathering was held outdoors at the Mill Yard Park pavilion, to accommodate a large public attendance. On request from Dan Osborn, owner of the Wisconsin Veterans Farm, on 921 South Eighth Street, the council looked at granting an exemption dealing with the city's noise ordinance.
Osborn plans to host a Mud Fest at his property, Saturday, June 27, from 11 a.m. to 9 p.m. The event is free for the public to attend, with live music, food and of course, mud.
"This is one of the only events that is currently going on," said Osborn, "so a lot of people are coming to our town to boost our economy."
"Has parking been arranged for them on your property?" asked mayor Mark Larson.
Osborn, a retired military veteran, says he thinks he has ample parking at the 75-acre farm, but is not sure how many people are coming to the event. As such, Osborn also asked that the city allow restricted parking on the west side of South Eight Street, from Baribeau Road to South Street, which would allow for passage of emergency vehicles.
Larson also questioned sanitation on the property, to which Osborn says he has four or five porta potties coming in, as well as 34 open-lid trash receptacles.
"We're trying to look at all aspects and again, keep the noise within daylight hours," said Osborn, adding people should still bring their own hand sanitizer.
"My biggest concern, is you end up with 200-300 vehicles… we've obviously got to accommodate that," said Cornell Police Chief Brian Hurt. "We're going to have play it by ear for what we can find for parking for that kind of event."
Council member Terry Smith asked if Osborn was hiring security, but as of the meeting, none had been lined up, as Osborn hoped to have off-duty personnel on hand from the sheriff's department.
"We're going to have a gate, so everything's going to be controlled," said Osborn.
Names would also be taken, in the event of an emergency and an "over 21" wristband attached to identify adults.
"I'd like to see it happen, myself," said Bill Kvapil, council member. "I wouldn't like to see the security get too aggressive."
Osborn says his plan for the event is to just have friends and neighbors come together to have a good time, as that is how the event started out five years ago, when his family had a party and got visiting trucks stuck in the mud. Osborn did say, he doesn't want mud slung all over Cornell, and that if vehicles are dirty, they will not let them leave the premises.
Ben Maier, next-door neighbor to Osborn, voiced his opinion, saying that not all of Osborn's land is usable, so the fest would only have a portion of the parcel available for 400-500 people to occupy.
"Who's going to be monitoring the alcohol, while people are driving these trucks, four-wheelers, dirt bikes?" asked Maier. "We're spelling disaster here. I think it's way too much for our officers to handle."
"There's a lot of uncertainty," agreed Maier's wife, Carla.
Osborn said to his knowledge, no one has gotten injured in previous years, but B. Maier said the event also had not been at this magnitude in the other years.
C. Maier says Mud Fest started out as a nice, family gathering, and that she was even over there for a visit. However, this year, she claims Osborn didn't ask anyone what they thought about opening it up so much to the public.
"This is a whole different ballgame, Dan, and you know it," said C. Maier.
"You also need to recognize that this is a private residence," said council member Ashley Carothers.
The council was in agreement that the only limits they really have over the event, are to allow the restricted parking and provide an exemption for the noise ordinance.
Hurt says his department is not prepared for the large-scale happening, because they were not brought into the event planning soon enough. He also mentioned that EMS personnel do not want to be on scene, in case they are exposed to COVID-19, with a lot of people from out of town expected.
"Dan, I wish you would have come to us eight months ago, instead of eight days before the event," said council president Steve Turany.
Osborn says in the past, they have had 350 people in and out of the property for the fest, with no problems.
Taking a vote, members agreed on the noise exemption for this year's fest and to restrict parking.
Council member Floyd Hickethier questioned if Hurt has one officer on that day and one off-duty officer from the sheriff's department, if they could handle the crowd.
"I hope so," said Hurt. "If it's quiet and peaceful, and everybody's respectful, we can handle 1,500. It all depends what's going to happen on a case-by-case basis."
During the meeting, Larson also updated the public on the culvert replacement detours between Cadott and Cornell, that will now begin the week of July 6. The replacements will be staggered, with the project hopefully ended the week of Oct. 5.
In reporting on a Board of Zoning Appeals meeting June 8, Hickethier notified the council that Vicki Visser, 1204 Bridge Street, had applied for a Conditional Use Permit for custom quilting at her residence. She said an estimated 10 or less people a week, would come on the property to pick up or drop off items.
The zoning board did not have an issue and approved the permit.
"Our ordinance allows for home occupation and professional offices to be in a residential district, with a Conditional Use Permit," said city administrator Dave DeJongh. "She's on a state highway, she isn't going to add or subtract from the traffic."