Posted on
Bohemian Lodge members recognized internationally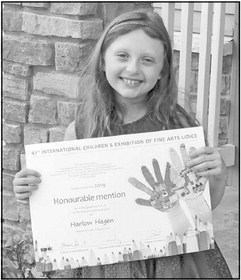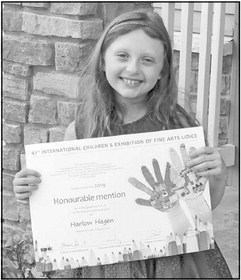 The ZCBJ Bohemian Hall, north of Cadott, was recognized at the 47th International Children's Exhibition of Fine Arts Lidice, Czech Rep. The exhibition was established in 1967, to commemorate child victims from the Czech village of Lidice, murdered by German Nazis, as well as all other children who have died in wars.
The exhibition became international in 1973. The village of Lidice was completely destroyed June 10, 1942, on orders from Adolf Hitler and Reichsführer-SS Heinrich Himmler, in reprisal for the assassination of Reich Protector Reinhard Heydrich.
There is a Lidice Monument located in Sokol Park in Phillips, that was completed and dedicated in 1944, by the Czech community in that area.
The Bohemian Hall Lodge is affiliated with Western Fraternal Life (WFL), formerly known as Zapodni Cesko Bratrska Jednota (ZCBJ) – translation Western Bohemian Brotherhood Association.
For several years, the Bohemian Hall Youth Group YELL (Young Engaged Lodge Leaders) has participated in the event, by submitting drawings or photos. This spring, the lodge received a package from the Czech Embassy in Washington, D.C., saying YELL members Harlow Hagen and Lila Staley, received honorable mention for photos submitted to the 2019 Exhibition.
They each received a diploma and a book written by Peter Sís, a renowned Czech artist now living in New York. A book of the history of Lidice, and the winning entries from previous years, were also sent for the Bohemian Hall.
Each year, there is a different theme and students from around the world enter. The theme for the 2019 Exhibition was chemistry.
Hagen's photo was of a colorful plastic toy, while Staley took a photo of her mother's perfume bottles. Both photos represented something made by the use of chemistry.